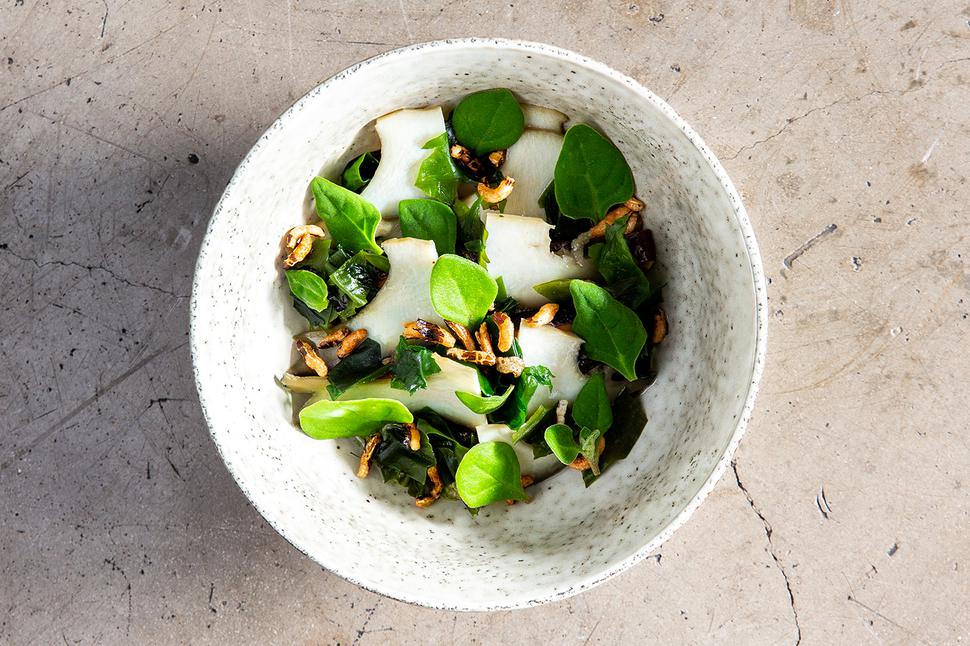 Home Grown: A Celebration Of New Zealand's Incredible Produce
Chefs from leading New Zealand restaurants share the stories behind their food's provenance
Friday Dec. 25, 2020
Lillius, Auckland
The dish: Tora Bay pāua with New Zealand barley, seaweed and succulents
"This dish has been well received by people who have never had pāua before. The flavour is delicate and the textures are complementary. To me, it tastes like the fresh waters of New Zealand. It's made with pāua hand-dived from Tora Bay Collective, New Zealand pearl barley from Christchurch sourced through Element Foods, wakame from Awatoru Wild Foods in Wellington and native sea spinach from Secret Garden in Pukekohe.
We like to use whole animals and utilise every part, applying the same perspective with fresh seafood. I use the shells to serve our canapes, the liver and trimmings are made into an emulsion that goes into the barley sauce. The meat is sliced and served on top. Wakame is something paua feeds on, so this is served in pieces for a visual aspect and as a butter to add richness to the barley sauce. The native spinach garnish adds that connection from land and sea." — Fraser McCarthy, chef/owner
Cazador, Auckland
The dish: Wild venison and New Zealand artichokes
"We've always used wild meat as it's the most flavoursome and sustainable meat we can get. We've recently started working with a permaculture vegetable grower who is producing some of the best produce we've ever had and they practice soil regeneration, which is really important to us. We source the venison from Awatoru Wild Food, Kāpiti, and Dalmatian artichokes from the Tuaropaki Trust, Taupō.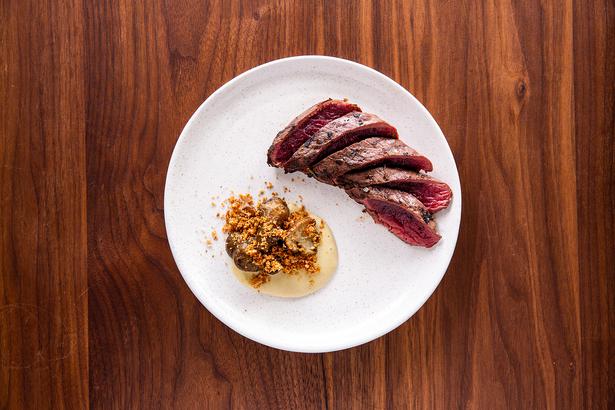 The venison is marinated with sherry, then cooked over coals to order. The artichokes are roasted and pureed and fried, finished with gremolata. It tastes wholesome and earthy. It's lean meat, dense with flavour but, being fallow deer, it is gentle rather than 'gamey'. The artichokes are sweet, rich and nutty." — Dariush Lolaiy, owner/chef
Arbour, Blenheim
The dish: Smoke-cured butterfish, tuatua, wild herbs, cultured cream, allium oil
"The butterfish is caught by local spear fisherman Tim Barnett of Ocean Speared. He takes our orders locally, then goes out and catches what we need.
He performs ikejime immediately on each fish, which is a very thoughtful way to end their life. The tuatua are from Cloudy Bay Clams, local food heroes here in Marlborough.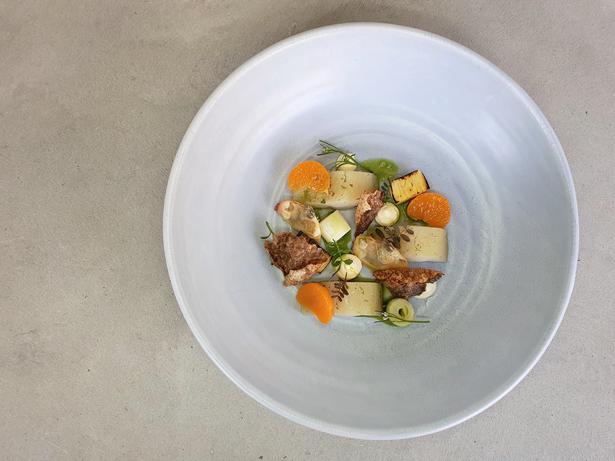 The herbs are from our local organic neighbouring vineyards. We are so lucky to have such amazing produce right on our doorstep.
READ: The Viva Team Share Their Favourite Menu Picks In Auckland
Marlborough is a food bowl and it is wonderful to be able to change our menu so often and show our guests why our region is such an amazing place to live." — Bradley Hornby, chef/owner
Ahi, Auckland
The dish: Bull kelp and john dory
"This dish is a delicate john dory fillet sheathed in bull kelp. Servers pull the toggle on the seaweed 'pounamu' to reveal the fish underneath — an expression of the way the fish is cooked. Bull kelp is used as an oven bag to carefully steam the fish, adding salinity and flavours of the ocean.
Scott and Maaike McNeil at Awatoru Wild Foods harvest the bull kelp in south Wairarapa, timing their visit with a full moon, low tide and the weather.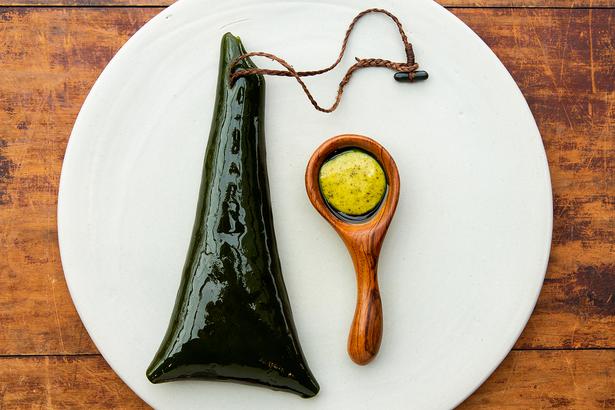 The fish is served with wild sorrel flowers and herbs, which have a lemony flavour and provide balance and acidity. A bull kelp hollandaise sauce adds richness and colour; shaved Canterbury truffles finish the dish. It's a natural and simple dish." — Ben Bayly, chef/owner
Rātā, Queenstown
The dish: Southland cheese roll
"The cheese roll is unique to Southland and Otago's food history and dates back to the 1930s. It's a variation on a white bread and cheese sandwich, made with thinly sliced white loaf rolled over a thick mornay sauce, which is pan-fried golden brown and finished in the oven until soft.
READ: Chef Kirsten Gilmour's Ode To New Zealand's Cafe Culture
Our Rātā version highlights local ingredients from southern New Zealand. It's made with Whitestone cheddar, a classic, strong-flavoured vintage cheddar with a crunchy texture and sharp finish, honey and fruit.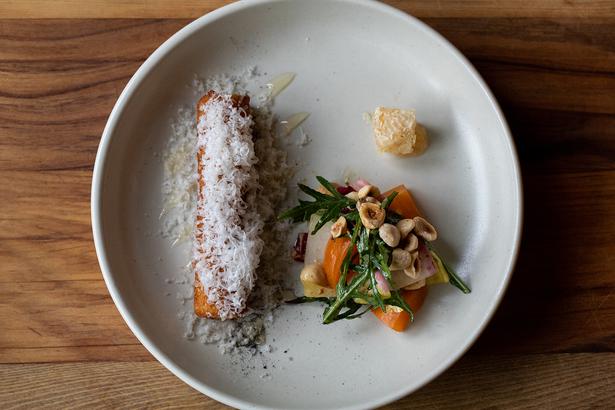 In the summer we preserve perfectly ripened Central Otago stonefruit and our honey is harvested from Gibbston Valley's purple thyme and wildflowers. The sweetness of both work perfectly with the cheese roll. It's served alongside a winter salad of bitter leaves, the stonefruit and Central Otago honey." — Fleur Caulton, co-founder
Amisfield, Queenstown
The dish: Eel on Vogel's
"We serve this eel dish under a cloche filled with m?nuka smoke, with its bones. Eel is something I grew up eating. We used to trap and smoke them and my dad would make it into a pâté that my brothers and I would eat on Vogel's with sour cream.
This dish was inspired by my time working at Martin Berasategui's restaurant in Spain and his millefeuille of foie gras, smoked eel and candied apple. The intricate combinations of flavours and textures prompted me to create this dish, combining his thoughts with my father's, in a New Zealand way.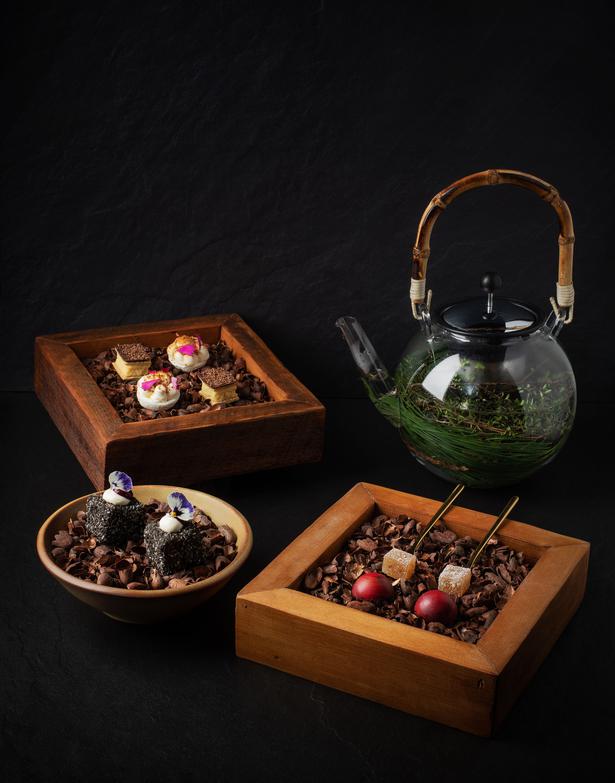 The eel is glazed with horopito, wild Otago pasture honey and olive oil grown on our vineyard. It's served with a syrup made from Amisfield's pinot noir or a syrup we make with sap from local birch trees. It sits atop our version of Vogel's classic grain bread, using horopito for spice, harakeke seeds and other foraged ingredients.
READ: Food Industry Favourites & The Women Who Inspire Them
On the toast is a Canterbury duck liver mousse and Amisfield-made 3-year-old jamon, which adds texture and umami flavours. The sweet, smoke, salt, umami and native flavours combine to exaggerate and complement the smoked eel." — Vaughan Mabee, chef
Inati, Christchurch
The dish: Caramelised white chocolate and jerusalem artichoke teacake
"For this tea cake (or some might call it a Mallow Puff), white chocolate and artichoke ganache covers dulce de leche, which is set on top of a gluten-free base or joconde (sponge). This is dipped in marshmallow and finished with tempered milk chocolate.
A whey truffle caramel bar is shaved over the dish. The artichokes are sourced from one of our neighbours in Ilam, the caramel bar is made from whey left over from the Roan Farm milk after making our in-house cheese.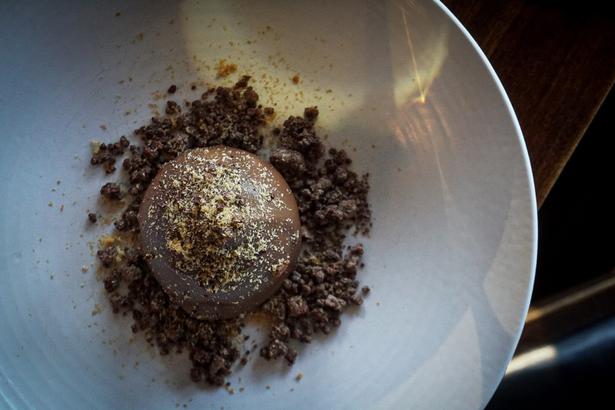 This milk also makes the dulce de leche inside the dish. Our eggs are sourced from Lamond, a local Canterbury free-range egg supplier, and the Bianchetto truffle shaved into the caramel bar is from Limestone Hills in North Canterbury." — Simon Levy, chef/owner
Hiakai, Wellington
The dish: Petit fours
"Our most recent menu was based on Matariki, the star cluster that rises in mid-winter in Aotearoa and signals Māori New Year. Matariki is a loving and encouraging mother. She symbolises support, supervision and encouragement.
She ensures that we are all able to thrive. It was an incredibly fitting menu for reopening after lockdown, as it is a celebration of not only renewal but also remembrance. The aim of the petit fours was to evoke memories of the past.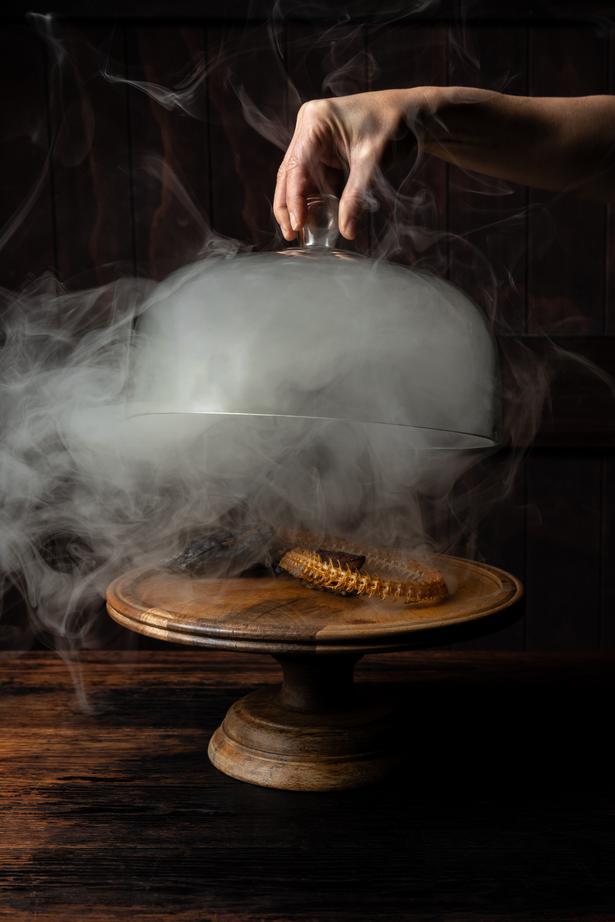 We have a kiwifruit pavlova, mamaku pâté de fruit, custard square, harakeke lamington and jaffa bonbon. This is served with a miro, cinnamon and kawakawa tea. We source the miro and kawakawa for our tea from the ngahere [bush] at the start of every week." — Monique Fiso, chef/founder
– Originally published in Viva Magazine – Volume Two
Share this: