Cha Cha Fish Recipe with Noodles
Cafe Hanoi's executive chef Jason Van Dorsten shares this restaurant favourite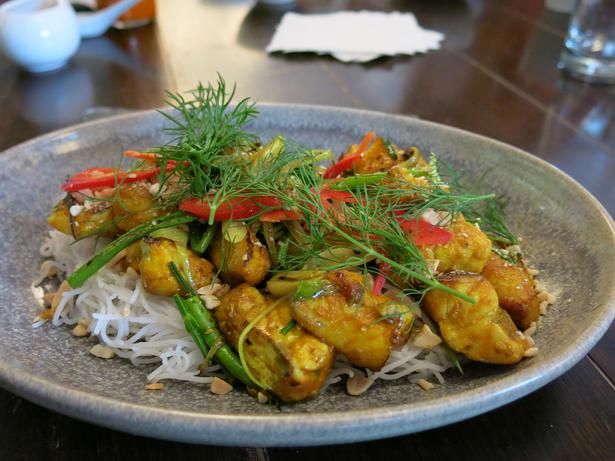 Monday Sept. 28, 2015
CHA CHA FISH
Serves 4
Fish and marinade
40g frozen galangal (available at Asian grocery stores)        
10g dried turmeric  
80g fresh ginger     
70ml fish sauce       
2ml canola oil        
800g fish (ling)
To serve
200g brown onion
60g snake bean (cut into 2cm pieces)
80g roasted chopped nuts
10g dill
80ml canola oil
240g rice noodles (cooked to packed instructions and cooled)

To marinate fish:
1. Clean the fish and cut into bite size pieces.
2. Finely chop the ginger and galangal and blend in blender or mortar and pestle with fish sauce.
3. Squeeze out excess liquid.
4. Mix turmeric with 150ml of liquid to make a paste and mix into fish till fully coated.
5. Add galangal, ginger to fish and more liquid if needed.
6. Marinate for at least 2 hours prior to serving. 

To serve:
1. Heat a pan with 30ml oil, add fish and saute on one side for about 30 seconds. Turn the fish, add the onion, beans and dill and sauté for a further 2-3 minutes.
2. Blanche noodles and arrange on plates with fish on top.
3. Garnish with a little more picked dill and roasted chopped nuts.
Share this:
More Food & Drink / Recipes