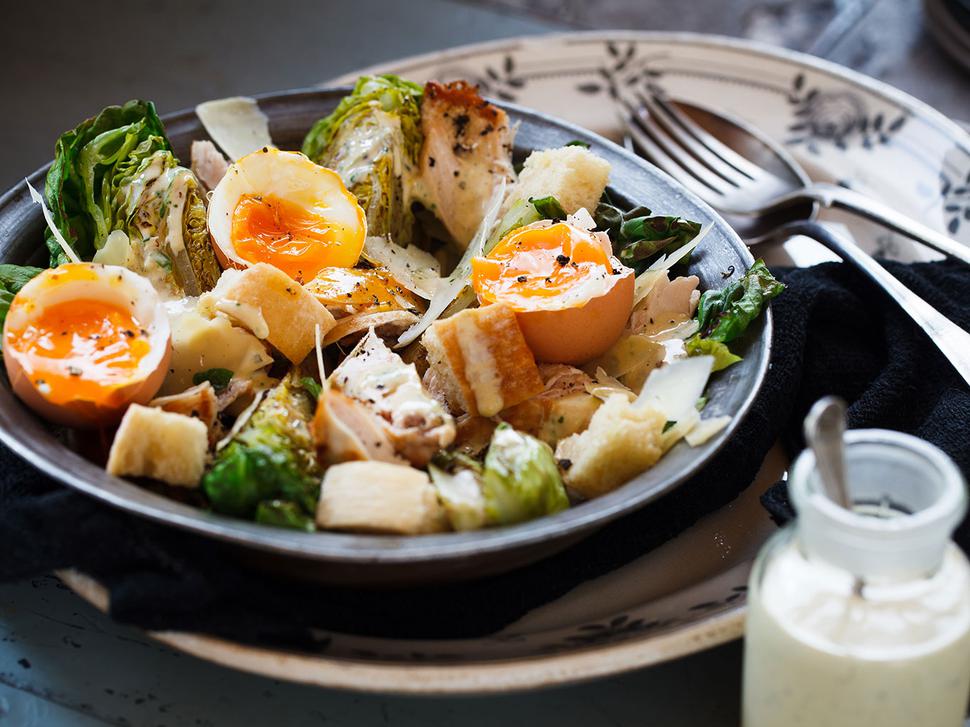 Chargrilled Caesar Salad Recipe
Angela Casley makes a Caesar salad with a punch
Thursday Oct. 29, 2015
When it comes to a caesar salad, nothing beats a homemade, punchy dressing. You will never want to buy it again. This recipe is so delicious I even use it as a dip for vegetables or prawns. Slightly charred lettuce brings a distinct flavour to the salad and transforms it into something more special.

CHARGRILLED CAESAR SALAD RECIPE
Serves 4
Dressing
• 2 Tbsp olive oil
• 3 anchovies, chopped finely
• 2 cloves garlic, crushed
• 1 spring onion, chopped
• Freshly ground pepper
• 2 egg yolks
• 1 tsp Dijon mustard
• ¼ cup grated parmesan
• 250ml flavourless oil
• Juice of 1 lemon
Salad
• 2 baby cos, cut in quarters
• ¼ French stick, toasted to make croutons
• 2 cooked chicken breasts, cut into chunks
• ½ cup grated parmesan
• 4 eggs
1. To make the dressing, heat the oil in a small frying pan along with the anchovies, garlic, spring onion and freshly ground pepper. Cook for 3 or 4 minutes until softened and aromatic. Remove and cool slightly.
2. Into a kitchen processor place the egg yolks, mustard and anchovy mix. Blitz, then slowly add the oil until your dressing is thick. Add the parmesan and lemon juice. If a little thick, add a dash of warm water.
3. To make the salad, heat a griddle pan or frying pan to a high heat. Char-grill the sides of the lettuce. Remove and cool.
4. On a serving platter place the lettuce, chicken, croutons and parmesan cheese.
5. Place the eggs into boiling water for 5 minutes. Remove, split in half and place among the salad. Drizzle over the dressing and serve.
Share this:
More Food & Drink / Recipes