Chargrilled Vegetables with Anchovies and Chilli
Try Angela Casley's delicious chargrilled vegetable dish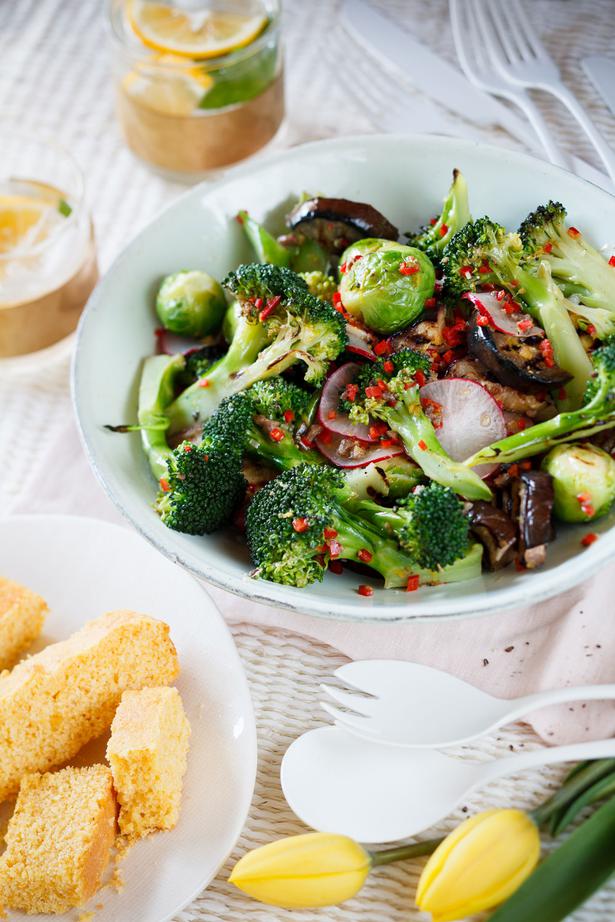 Thursday Sept. 17, 2015
Oily fish is full of omega 3, which is excellent for heart and brain function. In our family we aim to eat salmon, sardines or trout at least once a week. My favourites at the moment are anchovies. They add instant zing to a dish without overpowering it. In my chargrilled vegetable dish you simply chop them finely and combine with garlic, parsley and chilli before tossing through some of your favourite vegetables.
CHARGRILLED VEGETABLES WITH ANCHOVIES AND CHILLI
Serves 4
6 anchovies
2 cloves garlic, crushed
Zest and juice of 1 lemon
¼ cup chopped parsley
Freshly ground pepper
4 cups vegetables, blanched and chargrilled
Cornbread
25g butter
1 cup milk
1 egg
1 ¼ cup cornmeal/polenta
¼ cup sugar
1 cup flour
1 Tbsp baking powder
½ tsp salt
1. Chop the anchovies small and place in a bowl. Add the garlic, parsley, lemon juice and zest, and freshly ground pepper.
2. While the vegetables are warm add them to the anchovy mixture and toss while they cool.
3. Serve with cornbread on their own or with fish or chicken.
4. To make the cornbread, set the oven to 180C. Line a 20 x 20cm tin with baking paper.
5. In a pot melt the butter. Whisk in the milk and egg. Add the cornmeal, sugar, flour, baking powder and salt, stirring until well combined. Pour into the tin and smooth the top. Bake for 25 minutes. Serve warm.
Share this:
More Food & Drink / Recipes