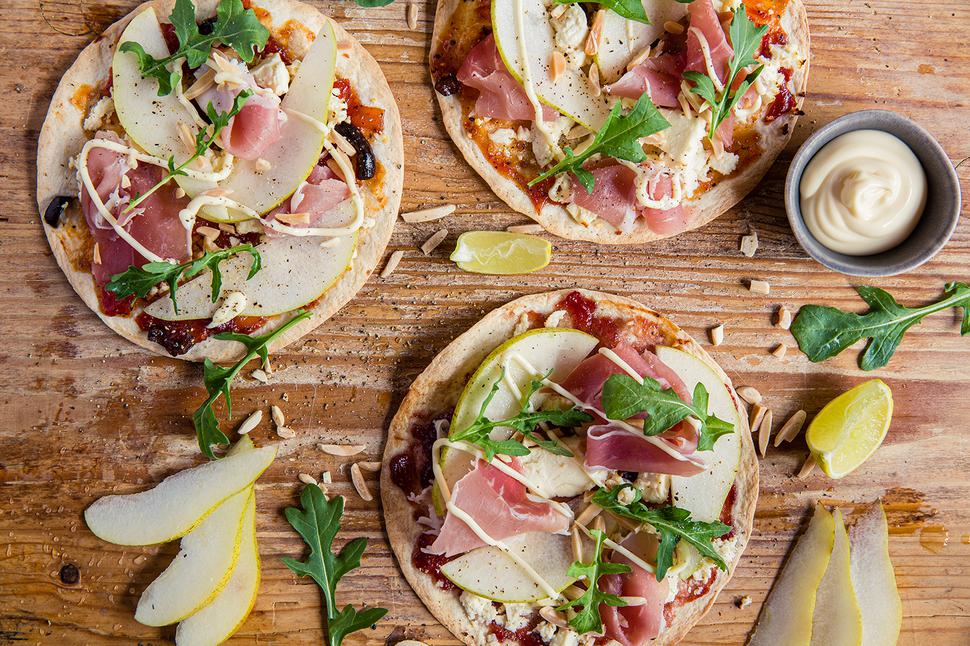 Cheats Mini Pizza With Goat Cheese & Prosciutto
These quick little pizzas can be any flavour you choose depending on what's in the fridge and cupboards
Saturday Nov. 2, 2019
Change up your chutneys to make these quick snack pizzas with spicy, Italian or classic homestyle tamarillo flavours. Size to suit, with your choice of base. Adding a good blue cheese will give the topping extra bite.
CHEATS MINI PIZZA RECIPE
Makes 4
4 small wraps
2-3 Tbsp chutney
100g goats feta
4 slices prosciutto
1 pear, thinly sliced
1 cup rocket leaves
1 Tbsp toasted almonds
½ lemon or lime
Aioli to serve
1. Preheat an oven to 170C.

2. Place the wraps on to a baking tray and spread with chutney, then crumble over the cheese. Bake for 8 minutes then remove from the oven.

3. Tear the prosciutto and place on the top. Add pear slices, rocket leaves, almonds and a squeeze of lemon.

4. Serve with aioli to dollop on top.
Share this: