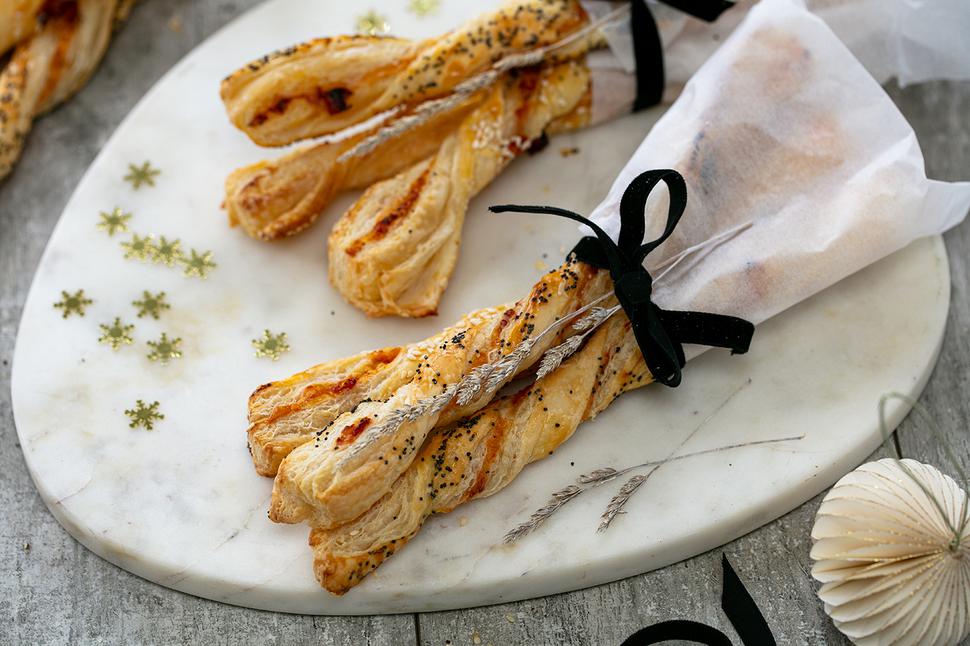 Cheese & Sun-Dried Tomato Twists Recipe
Crumbled feta and melted parmesan combine in these delicate puff pastries turned presents
Saturday Dec. 5, 2020
The smell of melted, golden cheese may prevent one or two of these making it to the intended recipient, as you can't beat them straight out of the oven. If presenting these twists in a gift box, consider adding a little serving suggestion to reheat before enjoying.
CHEESE AND SUN-DRIED TOMATO TWISTS
Makes 16
1 cup grated parmesan
200g crumbled feta
½ cup finely chopped sun-dried tomatoes
½ cup chopped chives
Pinch chilli flakes
¼ tsp salt and pepper
500g puff pastry
1 egg yolk mixed with 2 tsp water
1 tsp each of poppy and sesame seeds
1. Preheat oven to 200C. Line two baking trays with paper.
2. Into a bowl combine the parmesan, feta, sun-dried tomatoes, chives, chilli flakes, salt and pepper.
3. Roll the pastry into a 30 x 40cm rectangle and divide in half.
4. Evenly spread the cheese mixture on one half — using the back of a spoon works well for this. Place the second pastry half on top and gently push down so they stick together. Cut into 1cm strips, brush with a little egg yolk, then sprinkle half with poppy seeds and half with sesame.
5. Twist each strip three or four times and place on to the baking trays. Brush with a little more egg and sprinkle a few more seeds. Place into the oven for 20 minutes until golden and brown. Allow to cool.
6. Tie in bunches and wrap as a gift.
Share this: