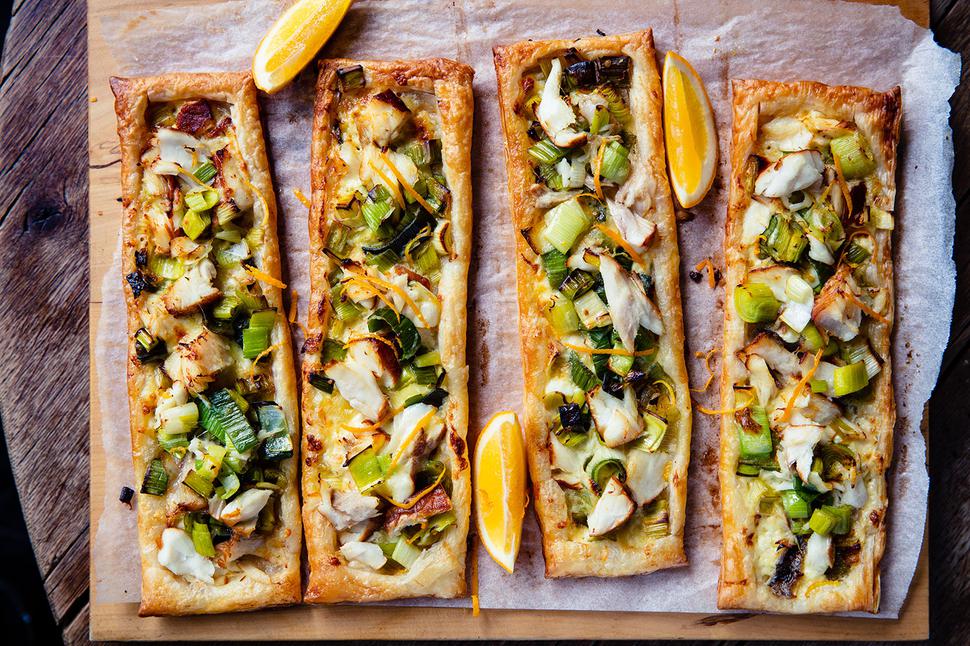 Cheesy Leek & Smoked Fish Tarts
Golden and rustic puff pastry is the perfect base for this flavoursome combo
Friday Oct. 12, 2018
Smoked kingfish adds a delicate flavour to these rustic puff tarts. Instead of making a creamy white sauce just add cottage cheese and parmesan to the mixture to keep it light and allow the flavours to speak for themselves. Slow cooking the leeks is an important step to gain the best result.
CHEESY LEEK & SMOKED FISH TARTS RECIPE
Makes 4
400g puff pastry
20g butter
1 leek, cut finely
½ cup cottage cheese
½ cup grated parmesan
2 Tbsps lemon zest
Egg wash to glaze
200g flaked smoked fish (I used kingfish)
1. Preheat oven to 200C.
2. Roll the pastry into a large rectangle. Cut four small rectangles, roughly 5 x 18cm. Cut a border 1cm from the edge of each rectangle, but not right through to the base of the pastry.
3. Heat the butter in a pot. Add the leek, cooking on a low heat for 10 minutes until completely softened. Remove from the heat. Stir through the cottage cheese, parmesan and lemon zest. Season with salt and pepper.
4. Spread the leek mixture on to the pastry leaving the border free. Brush the edges with egg wash and place into the oven for 15 minutes until the pastry is puffy and golden. Flake over the fish and return for 5 minutes to heat it through.
5. Remove and serve with a squeeze of lemon.
Share this:
More Food & Drink / Recipes