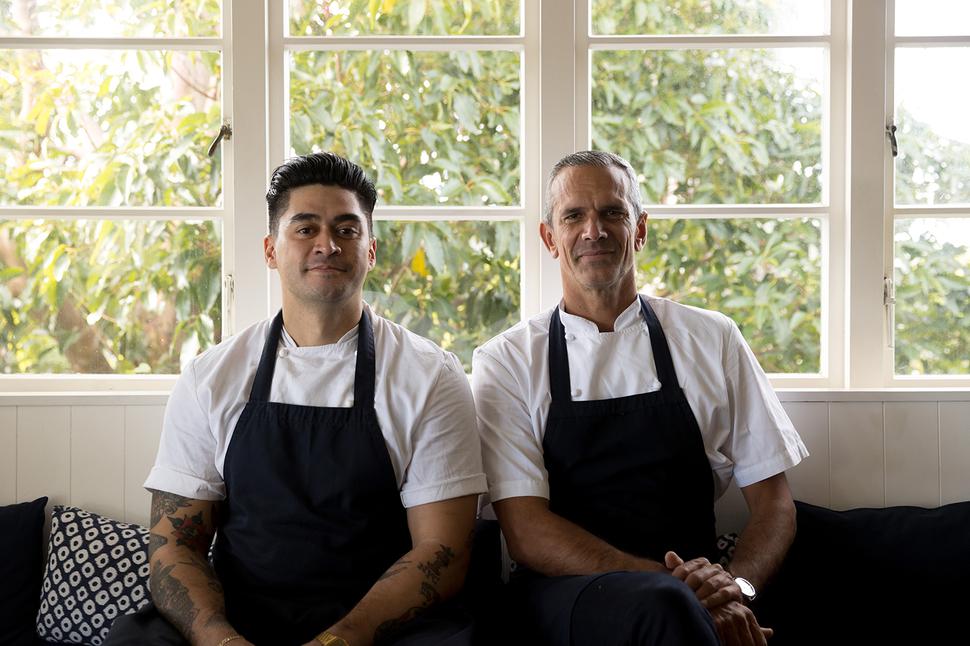 Chef Jamie Hogg-Wharekawa On Leaving New York City For Waiheke Island
The Oyster Inn's new head chef shares how he came to helm Josh Emett's beloved island eatery
Sunday July 18, 2021
"I'm pretty loud," laughs chef Jamie Hogg-Wharekawa, when asked what aspect of his 'Kiwiness' he brought to work in New York City kitchens, his voice cutting through the din over a coffee at a downtown cafe.
Hanging out in busy urban settings like this have become a rarity since he and his family moved home last year, leaving the Big Apple behind for life on Palm Beach, Waiheke.
Jamie was only a year into his first major role at a New York City restaurant, a baby on the way, when Covid hit. Within days, Gran Tivoli, the Italian eatery he helped set up with Australian restaurateurs Robert Marchetti and Jason Scott, had closed. But he has landed another dream gig: as head chef of The Oyster Inn on Waiheke Island, under star chef and owner Josh Emett.
READ: Josh Emett's Guide To Queenstown
"We were always planning on coming back to New Zealand, just not so soon," says Jamie, who has enjoyed an international career focusing on Italian food, from his early days at the Ponsonby Road Bistro to working under high-profile chefs in Melbourne, Bali and elsewhere in New York.
After the birth of Jamie's daughter Olive a few days before the city found itself in the grips of a nine-month lockdown — a period the chatty chef says was a blessing as it allowed him bonding time — he and wife Nadine came home to New Zealand in late 2020.
One night Jamie took Nadine for a birthday dinner at Josh and Helen Emett's restaurant, Onslow. Impressed, he made the quip that wouldn't it be funny if Josh offered him a job at his latest venture on Waiheke? "We were joking like, 'Maybe he'll love me'."
Weeks earlier, Josh had sent out a missive on Instagram to lure expat chefs and hospo staff home, in an effort to help fill the industry-wide void that transpired when our borders shut. The celebrity chef, previously behind Hawker & Roll, Madam Woo, Ostro and Rata, had bought The Oyster Inn in 2020, not long before Covid hit.
Despite the hardships the industry has faced in the past year, Josh says the lockdown period provided the space required to focus on renovation and HR projects within his businesses — including looking for someone with the right kind of experience to helm his island eatery.
READ: Waiheke's Culinary Convoy: Meet The Food Truck Operators Shaking Up The Island's Dining Scene
Meanwhile, the boutique hotel and bistro overlooking Oneroa Beach reminded Jamie of the New England restaurants he'd visited in his off-time — and there was the bonus of working with Josh, one of the country's leading chefs.
"I fell in love with the whole concept. I'd had a thousand lobster rolls since working in New York but they're the kind of things I'd never really cooked before. The Oyster Inn got me excited as it's not tied down to one cuisine. There's room for ideas."
Josh was just as open to Jamie bringing his creativity to the menu.
"He had a great, varied background," says Josh of Jamie's time spent working with (among others) Robert Marchetti at Giuseppe Arnaldo & Sons and Scott Pickett at Estelle (both in Melbourne), Donna Lennard at Il Buco Alimentari & Vineria in Noho, and of course, Robert again who asked Jamie to be his executive chef at Gran Tivoli in NoLita.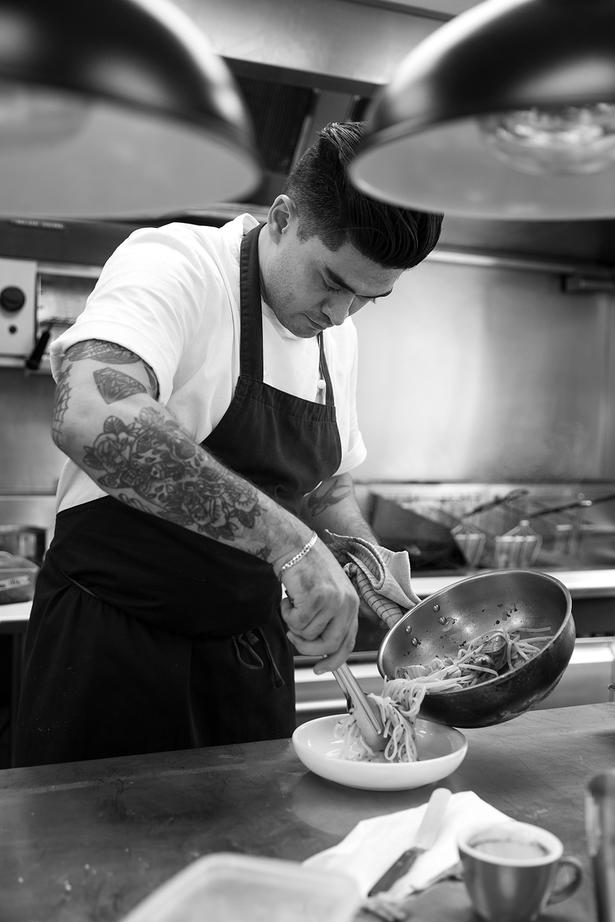 He also liked what he'd heard of Jamie's proactive nature. When he first arrived in New York, the young chef had reached out to New Zealand chef Matt Lambert, whom he'd worked with in Bali, and offered to work at his Michelin-starred kitchen The Musket Room for a day for free. From there he trialled at two kitchens, and was offered a role at both, choosing Il Buco "as I really liked the look of the restaurant".
"I had a lot of creative freedom there," Jamie adds. "I'd go to Union Square five days a week and find whatever was in season which would shape the daily specials. I found it very challenging at first but it was a really good experience."
READ: Where To Eat, Drink & Shop On Waiheke
Although Jamie wasn't known to him, Josh knew many of the places he'd worked. He and Helen had even dined out at Andrew Carmellini's rooftop eatery Westlight, not knowing they were eating Jamie's cooking.
One day Jamie told Josh about a dessert based on the classic zabaglione that he'd made for Andrew, with blood orange, granita and vanilla. "It was so simple but really outstanding," says Josh, who gave his new chef two days to put it on the menu.
Jamie has also since added a ceviche with a wintry spin, inspired by a celeriac dish he'd tried in Brooklyn, handmade milk buns for the Inn's instantly popular fish burgers and fried oyster sliders, Sunday roasts with an Italian twist, and handmade pasta.
Even with the lack of international visitors, Jamie says the restaurant has been humming with locals, citysiders and hospo workers on their time out from winery jobs — and he's been just as impressed by the slew of restaurants on the mainland that have cropped up since he left New Zealand.
Although he does miss being able to eat out at New York's bodegas, pizzerias and generations-old neighbourhood Italian restaurants, his mind has been broadened to modern Maori cuisine. Nadine bought him a copy of Hiakai by fellow New Zealand chef Monique Fiso, who'd also done a stint in New York.
"And I ate at Peter Gordon's Homeland recently and it blew me away."
Living on Waiheke has also proved a nostalgic experience. His dad used to live there when he was a child, and when Jamie wasn't hanging at the beach he was marvelling at his dad's cooking skills. "He'd make ribs and they'd marinate for a day before he cooked them," he says. "And it used to bug me out thinking about the timing."
The way things have panned out after the year that was, he could say the same.
Share this: