Why Michael Meredith is Closing His Much-Loved Restaurant
The highly regarded chef is ditching his whites to make more of a difference with food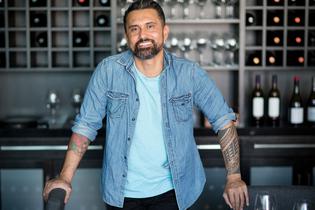 After 10 years in the game, one of the country's best fine-dining establishments is closing its doors come Christmas. Owner Michael Meredith is saying goodbye to Merediths, with plans to give more through food.
"It's the right time to finish," Michael says, tucked up the back of his intimate restaurant over the satisfied scrapes of lingering lunchers. "It's good to do something you love but you don't have to do it forever. I've done what I needed to do," he says.
Since opening in 2007 the unassuming Dominion Rd address has seduced diners with its fiercely imaginative tasting menu and stacked up a hefty pile of awards. It's also operated a "dine by donation" scheme once a week, where every cent spent on food goes to charity.
But every kitchen has its challenges. "Merediths hasn't been easy. You have a lot of fearful moments," Michael admits. "The calibre of what we've done has always been high. You have to invest yourself and reinvent your food constantly. There's been a lot of sacrifices in my personal life."
The father of three daughters is about to do it all again in the New Year — he wouldn't mind a boy — so a break is needed. "When you own your own business you don't see your family. So this time around I want to enjoy that part."
But the man doesn't really chill. He's also a consulting chef for Air New Zealand, and the co-founder of Eat My Lunch, a food delivery service providing free lunches for every lunch sold to hundreds of school kids who would otherwise go without. This month it hass upscaled to provide dinners too.
"I think as chefs and owners we have to look wider. It's hard to see out of your own restaurant but we live in this world and things happen outside of it," he says. "Food is food. It's survival to some people. I think we need to shorten the gap."
Something his next big project will work towards. "I can't say too much but it will have a massive social side to it," he reveals. But his chef whites will be staying on the hook — duds he's evolved into over the last decade. He reflects: "In the beginning I was doing so many flavours. You want to show off the techniques but as years come you learn to trust in the ingredients."
Michael has also learned to appreciate native foods and he's happy to see others follow suit. "Chefs are becoming more confident with New Zealand ingredients. We need to cook our own food and have our own palette on the plate," he says. "The public needs to understand this too. It shouldn't have to come from somewhere else in the world to be high end."
As for the Merediths' site, it's already been snapped up by a new team to "live on and have a re-birth of a new style of food," says Michael who's looking forward to enjoying the space from the other side of the pass. "That's the thing. I've been here 10 years and probably eaten here only once."
• 365 Dominion Rd, Mt Eden. Visit Merediths.co.nz. Eat My Dinner is now available five days a week from $14 plus delivery $4. Order at Eatmylunch.nz
Share this: