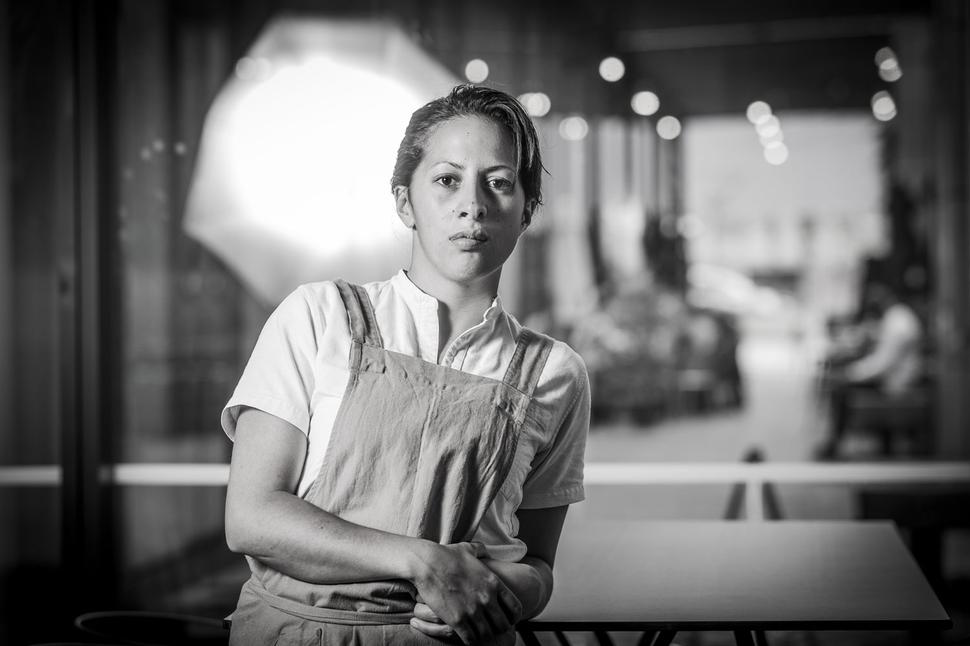 Chef Monique Fiso's Hiakai Pop-Up Is Set To Get A Permanent Home
The celebrated chef is ready to put down roots and give her Maori fine-dining pop-up a sense of permanence
Friday July 20, 2018
It's been almost two years since chef Monique Fiso started her Hiakai pop-ups, taking over restaurant kitchens with menus that champion Maori cuisine and indigenous ingredients. At the time, she didn't know if there was even an appetite for her idea, but the project is gaining more momentum than ever.
The sell-out events combine a fine-dining approach with knowledge that Monique's been hungrily gathering on traditional techniques. Originally from Porirua, the chef clocked up work experience in top kitchens around the world, before digging into this project when she arrived back on home ground.
READ: Monique Fiso's Big Plans For Maori Cuisine
"It's funny because when I started the pop-ups, I didn't think they would have as big of an impact as they've had," says Monique from her Wellington office. "I didn't think it would end up snowballing into a movement. Now there are chefs who are starting Maori pop-ups and doing events and I'm like 'holy crap, that's pretty cool'. I didn't see that coming."
She says in that time, she's noticed a spike in people using indigenous ingredients in their menus. "[They're] making dishes where those ingredients are the hero and not just a background thing."
Monique says it feels like the right time to put down roots in a permanent home for Hiakai as it can no longer keep pushing the boundaries in its current form. "It's difficult to do menu development and put out plates of food at the calibre you desire when you're constantly moving equipment from one location to the next.
"Now that we've gathered all this data over the past two years and got a really good understanding of how it works and how the supply chain works — we're asking 'what do we do with it now, where do we go from here?'"
The answer is a permanent Wellington restaurant, which is only a possibility now that she's solved her steepest learning curve: figuring out how to attain a consistent supply of hard-to-find ingredients.
"I think the biggest thing was understanding what the challenges are with Maori cuisine, because I went into it thinking that the reason there hasn't been Maori restaurants was perhaps because the people who tried previously weren't very good cooks, which is a very arrogant thing to think but that is actually one of the thoughts I had," she says. "Once I started really delving into it, I realised that the bigger issue is that there's not a great supply chain, so that's a big problem if you're going to try and do anything on a commercial scale."
She said a year ago she would call suppliers to track down ingredients like huhu grubs and they'd tentatively say they "maybe had a few". By creating demand and working with various growers, producers and government departments, she's helped to turn this around.
"Now they're calling us saying 'The season's coming up, how much are you after this year?'," she says
She's tight-lipped on the details of what dining at her restaurant will be like, but says she's looking to include more elements of her Michelin-starred background — namely a strong attention to detail.
"It's the little things — that's how you can tell somebody's spent time in those kitchens as [opposed] to someone who hasn't. It's all in the details, which I think is what's made Hiakai pretty successful to date."
The opening is planned for September, but she's keeping things realistic. "Of all the seven restaurants I've helped open in my career, I've only seen one open on time," she says. She might know what to expect, yet says opening a restaurant entirely of her own has a different feel to it.
"It's exciting but also really nerve-wracking — taking it from [being] a one-woman band two years ago to what it is today… the stakes are higher. There are a lot more sleepless nights at the moment."
As well as the restaurant, Monique's working on the "mammoth" task of researching and writing a comprehensive guide to Maori food, which she's writing with academic Dr Tracy Berno (to be published next year with Penguin Random House).
READ: A Twist on Traditional Hangi
"There's never really been a book that's covered the foundation of Maori cuisine in this depth," she says. "There have been books on the medicinal side and a little bit of Maori history and there have been some recipe books that have just glossed over it."
She says the book's taken up a "huge chunk" of her headspace, not least because of how hard it is to find information on some of the topics, history and ingredients they're covering.
"[We're] tracking down books that have been out of print for years, finding the one copy that's managed to end up in Wisconsin and waiting a month for it to arrive."
A "notoriously impatient" person, the process has helped her to realise that things take time.
While it's a project that makes her want to tear her hair out at times, Monique says it's also hard for her to switch off and she's often kept up with new schemes even when she's exhausted. The night before speaking to Viva, she had flown back to New Zealand from an event in Hobart called Dark Mofo, a festival run by the Museum of New Art. As part of the food component, Monique spent a week cooking on above-ground hangi pits.
"It was really challenging physically — one pit is hard enough and then you do two and you're feeding hundreds of people a day in a situation with already quite a different setup," she says. "By day three the shovelling of the dirt got a lot slower. We were really sore."
Even so, on her middle-of-the-night flight home, she slept for around 10 minutes before her brain lit up with an idea for the hangi collaboration she's doing as part of Wellington on a Plate. She estimates she's out of town a few days a week and wishes she could add an extra week to every month. "It feels like I've been at the airport every week," she says, but is aiming to stay closer to home as the opening draws nearer.
Does she still have the same drive as when she started? If you could see her workspace, she explains, you'd understand what it looks like to work 18-hour days, seven days a week. "You have no idea," she laughs.
It probably helps that she's regularly reminded of the reason she started it all. Someone recently pointed out to her that they've watched the frequency of people posting with the #hangi hashtag on Instagram rise dramatically. Then there was the time in Hobart that someone approached her to tell her that she's made him proud of what Aotearoa has to offer.
"Some guy came up to me and said: "You just made it really cool to do this stuff that we were kind of embarrassed about."
• Monique Fiso will be cooking for Variety — the Children's Charity's annual event, Skycity Variety of Chefs, which raises funds for disadvantaged Kiwi kids. Friday, August 31, 7pm. SkyCity Convention Centre, 88 Federal St, City. Tickets from $245. Visit Varietyofchefs.co.nz.
Share this: