Paul Limacher Named New Zealand's Premier Red Meat Chef
A nationwide quest to find the country's premier red meat chef has seen culinary stalwart Paul Limacher take out the top award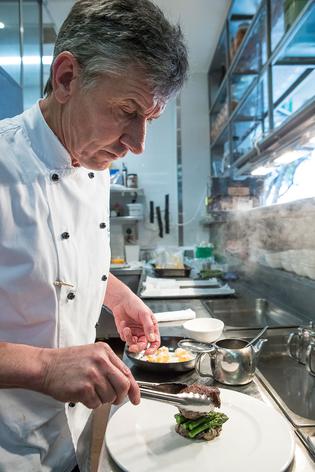 Paul was named winner and premier master of fine cuisine in the Silver Fern Farms Premier Selection awards. His reserve beef tenderloin creation also won the best beef dish and best metropolitan restaurant categories in the awards, announced in Auckland last week.
Paul is no stranger to success: chef de cuisine at the InterContinental Wellington's Chameleon Restaurant, he has a swag of culinary credits including multiple claims to the best New Zealand seafood restaurant title.
It was beside the seaside that a very young Paul first pursued his enthusiasm for food. His earliest memory of cooking goes back to when he was 5 and his dad — a recreational diver — brought back crayfish he'd caught. Paul and his dad cooked it up in a pot on the beach. "I was hooked from then on," he says.
The former executive/head chef of some of Wellington's leading establishments says competitions never get any easier. "There is a constant quest to better yourself. It would be easy to re-hash what you've done in the past, but the challenge is to continually evolve."
For inspiration for his winning Silver Fern dish, Paul first looked to himself. "It always comes down to something I'd like to eat." The dish featured mushroom ragout and roast parmesan gnocchi, together with button onions and asparagus.
"It was part of a planned menu change at the restaurant from winter to spring, and the Silver Fern Farm awards came up at the same time, so I incorporated the change of seasons."
A total of 73 restaurants, from Waiheke Island to Ophir in the deep South, featured in the awards, and were narrowed down to narrowed down to 12 finalists.
When his name was read out as supreme winner Paul felt both humbled and excited, he says.
READ: Celebrate National Lamb Day With These Recipes
"There were some very esteemed chefs in the room."
Head judge Kerry Tyack says it was a close call between Paul's dish and one from Daniel Hill, of Pitches Store in Ophir (who won best regional dish award for his reserve eye fillet) for the supreme award. What pushed Paul over the finish line was the absolute consistency of his dish over five judging visits. Kerry says.
Paul, who still has his eye on the prize for future awards, has a few tips for cooking meat in order to bring out its best characteristics:
• Bring the meat to room temperature before cooking it, so the flesh is nice and relaxed.
• Oil and season the meat before placing it in the pan.
• Sear at a very high temperature to caramelise the meat, before finishing it at whatever temperature the recipe specifies in the oven (this offers a more rounded cooking process, says Paul).
• Remove, cover and rest outside the oven for a minimum of 10 minutes before serving. This allows the connective tissue to relax and the proteins to set, helping to retain moisture.


Share this:
More Food & Drink / Features & Profiles