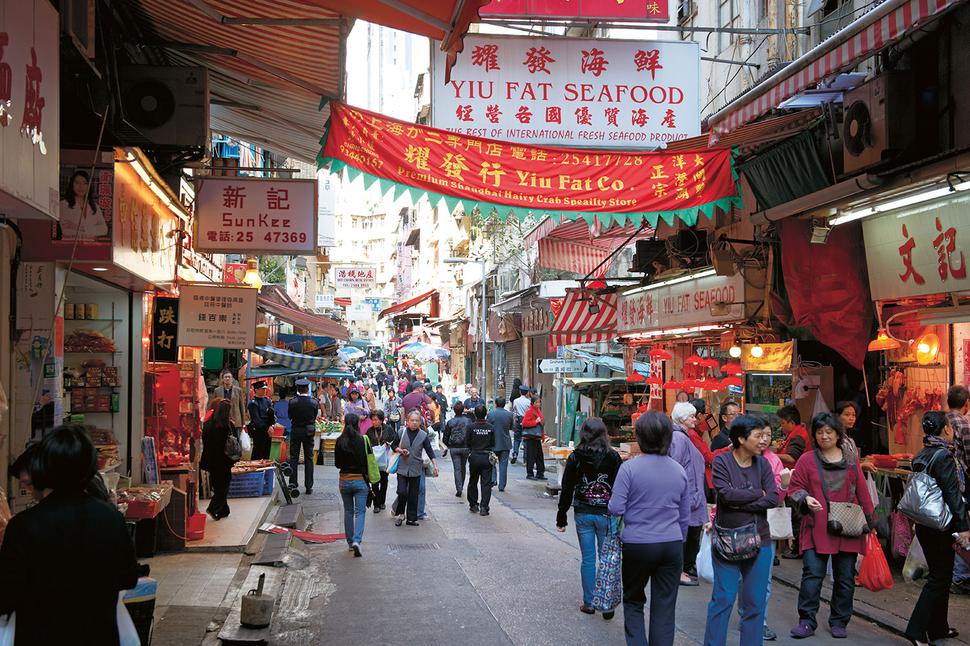 Chef Tony Tan's Guide To Hong Kong's Seafood Delicacies
Discover the unique Cantonese cooking style in this extract from chef Tony Tan's book Hong Kong Food City ahead of his appearance at the Auckland Writers Festival
Sunday May 12, 2019
At eleven in the morning on a hot Hong Kong Sunday the ferry ride to Lamma Island is crowded.
It's packed with day trippers and residents heading back to the car-free island after a night of revelry in the city. As the ferry approaches the jetty of the sleepy fishing village of Sok Kwu Wan, the Hong Kong most visitors know seems a million miles away.
I've been brought here by Angela Li, best known in Hong Kong's cultural world for her art gallery in Sheung Wan. An internationally recognised authority on contemporary Chinese art, Angela is also a gastronome. And the reason we're here is to eat at the al fresco seafood restaurants that line the waterfront.
Well known among hard-core food lovers for serving some of the finest (yet fairly inexpensive) seafood outside Hong Kong proper, the restaurants offer pristine fish from the local fish farm, supplemented by seafood from around the world.
READ: Where to Eat & Drink In Hong Kong
The cooking style at these mostly family-run places is Cantonese. As we look through the tanks filled with live sea bream, tilapia, garoupa, sea snails, phallic-looking geoduck and prehistoric-looking mantis prawns, the seasoned waiter makes recommendations for how to cook our selections. Pretty soon, expertly cooked plump scallops with the merest hint of ginger arrive with slippery glass noodles, along with sweet clams with black beans and chillies.
When the platter of typhoon shelter-style mantis prawns is placed on the table, our conversation pauses. Dropped in smoking hot oil, the crustaceans' shells have been shocked into crisp deliciousness by the intense heat. In the process, the shells have been separated and the meat remains tender. Topped with a mountain of crisp golden fried garlic, chillies and spring onions, this dish is a showstopper.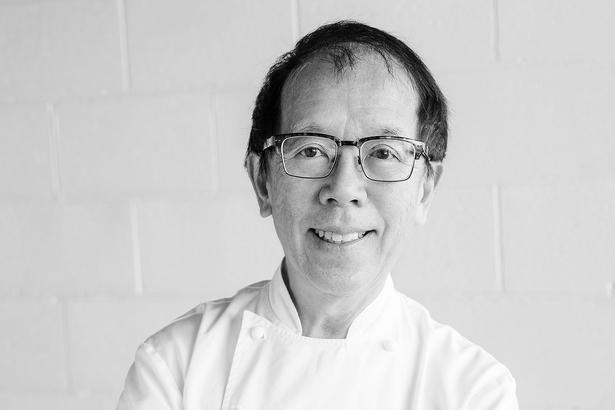 As we tuck into these insanely delicious prawns, eating with our fingers, Angela gives me a lesson on seafood appreciation and why it's such an obsession with Hong Kong people. To begin with, the Cantonese word for seafood is hoi sin, which loosely means fresh things or offerings from the sea, and, of course, the fresher the seafood, the better it tastes.
Any seafood that's a couple of days old is shunned. Chefs and seafood buffs insist on live seafood to capture that freshness. Hence, no self-respecting seafood restaurant would fail to feature tanks of live seafood at its entrance. In high-end restaurants, where there are no seafood tanks on display, a live fish in a basket is brought to the diner for viewing before it's dispatched in the kitchen.
READ: Where To Find The Top 50 Bars In The World
There's also a cultural significance to eating fish. In Chinese, the word for fish is yu. Pronounced with a different accent, it also means abundance and affluence. So the more fish that is eaten, the more benefits one will receive.
Furthermore, Chinese people love eating a whole fish. This relates to the Chinese philosophical belief that life has a beginning and an end. I'm no Chinese sage, but I'm more than happy to eat the belly, the fins, tail and all.
The usual method for cooking super-fresh fish is steaming, because the moisture seals in the flavour. Taking a matter of minutes, this method is foolproof, but it pays to bear a few details in mind. You need to consider the variety of fish you wish to steam. Oily fish, for instance, doesn't take well to steaming. Know your fish and consider the size, and you'll be able to determine the time it will take to steam it to perfection.
Steamed with ginger, soy sauces, sesame oil, sugar and sometimes rice wine, and topped with a shower of coriander and spring onions, a whole fish is finished with a splash of hot oil in a classic Cantonese method that makes for sensational eating. Those who know a thing or two about eating fish will immediately go for the tender cheeks.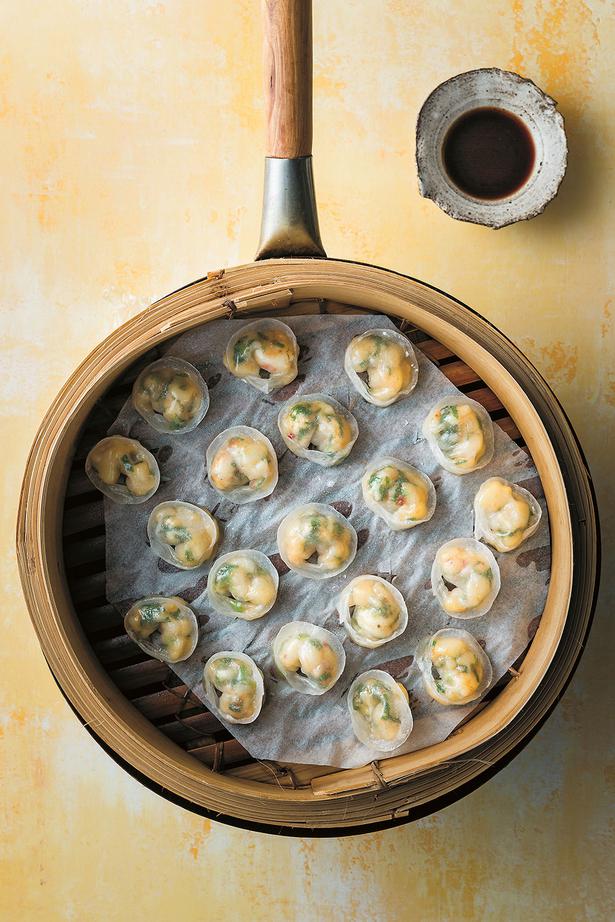 RECIPE: Tony Tan's Scallop And Chive Dumplings
On one occasion, I was taken to Po Toi Island with my friends Paul and Diane Tighe, whose knowledge of all things culinary on the south side of Hong Kong Island is quite remarkable. Accessible only by ferry either from Stanley or Aberdeen, this tiny outcrop is famous for two things: hiking and a casual restaurant serving the most divine seafood. Located in the sheltered cove, Ming Kee Restaurant's party atmosphere attracts well-heeled pleasure seekers, who arrive in company junks and yachts for the weekend.
In its massive kitchen, vats of live fish, crayfish, crab and prawns await their fate. We order prawns by the catty, the Chinese unit of measurement. Prepared Cantonese-style with a reduction of soy sauce, sugar and Shaoxing rice wine, this classic dish of twice-cooked prawns is splendid. Perhaps it has something to do with the sun and the gentle sea breeze or the Tsingtao beer, but a lobster with e-fu noodles scented with garlic and ginger will be in my memory forever.
READ: Hong Kong Local Davena Mok Shares What's Good In Her City
To say seafood cookery in Hong Kong is extraordinary and eclectic is an understatement. Perhaps this has something to do with the city's cosmopolitan nature, but I nearly fell off my perch when goose-neck barnacles, the prized delicacy the folks of Galicia would risk their lives for, was presented to me by David Lai, one of the city's top Western-trained chefs.
Equally breathtaking is the deep-fried stuffed crab from the Four Seasons cooked by Chan Yan Tak, who has the distinction of being the first Chinese chef to earn three Michelin stars. On the traditional front, chef Kwong Wai Keong's lobster with a trio of alliums, served at three Michelin-starred T'ang Court, is outstanding.
European-trained chefs have also contributed to the seafood scene. At Arcane, the chic restaurant helmed by multi-award-winning chef Shane Osborn, the seasonal menu features seafood of exceptional quality. His kingfish carpaccio with jicama and fennel is drool-worthy. As for Richard Ekkebus, chef at Amber Restaurant, currently placed 24th on the World's 50 Best Restaurants list, his signature Hokkaido sea urchin dish is sublime.

• Hong Kong Food City by Tony Tan, published by Murdoch Books, distributed by Allen & Unwin, $55. See Tony Tan on the panel of Entree at the Auckland Writers Festival, 11.30am, Fri May 17, Aotea Centre. To book, visit Writersfestival.co.nz
Share this: