Cherry and Hazelnut Roulade Recipe
This recipe for cherry and hazelnut roulade makes the most of new-season cherries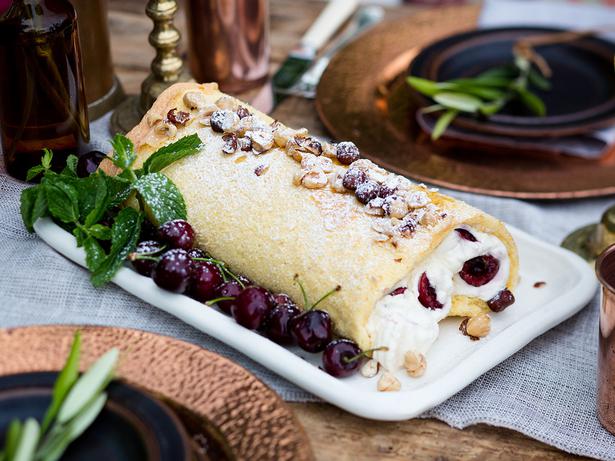 Friday Dec. 9, 2016
There's nothing like a decadent dessert at a picnic. Put this finished roulade in the fridge before presenting it and it should hold together nicely until serving. Light and delicious, it has only a little flour in it. I opted for new season cherries — which are plump and sweet and tasty, but berries would be just as delicious. The hazelnuts add a wonderful crunch — you can buy them already roasted to save you the effort.
CHERRY AND HAZELNUT ROULADE
Serves 8
Roulade
5 eggs, separated
5 Tbsp caster sugar
Zest of ½ lemon
3 Tbsp flour
½ cup toasted hazelnuts, finely chopped
Filling
200ml cream, whipped
1 cup halved fresh cherries, stones removed
½ cup toasted hazelnuts, roughly chopped
Cherries, mint and icing sugar to decorate
1. Preheat an oven to 170C. Line a Swiss roll tin with baking paper. Plus have another piece of baking paper ready for when it comes out of the oven.
2. Place the egg whites into the large bowl of a mixer. Beat until stiff. Slowly add the sugar, then the egg yolks one at a time. Fold through the zest, flour and hazelnuts. Pour into lined tin and spread.
3. Place into the centre of the oven for 15 minutes until just set. Remove and tip carefully on to your second piece of baking paper and roll gently while warm. Let cool.
4. To fill — beat the cream until thick. Fold through half the hazelnuts and cherries. Unroll the roulade carefully. Spread over the cream mixture and reroll. Place on a serving platter.
5. Garnish with hazelnuts, cherries, mint leaves and dust with icing sugar.
Share this:
More Food & Drink / Recipes