Chia and Prune Pudding Recipe
Try Angela Casley's surprisingly easy chia pudding recipe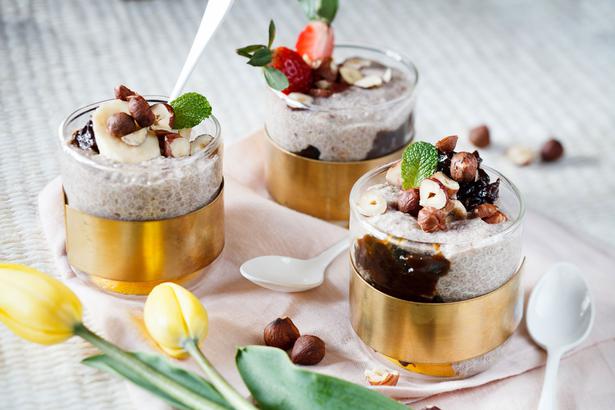 Thursday Sept. 17, 2015
Chia pudding is popular on cafe menus at the moment. You may be surprised how easy it is to make. Be creative and adapt it. Prunes are a favourite addition of mine but dates, banana, cinnamon or berries are also scrumptious. Adding nuts and seeds just before serving gives the pudding a crunchy texture. On its own, without any exciting extras, it reminds me a bit of boarding school years ago.
CHIA AND PRUNE PUDDING
Serves 4
12 dried prunes
Zest and juice of 1 orange
¾ cup chia seeds
2 cups almond or soy milk
¼ tsp cinnamon
½ tsp vanilla
¼ cup chopped hazelnuts
Other options: banana, berries, maple syrup, honey, dates.
1. Place the prunes in a small pot with the orange zest and juice. Heat slowly for 15 minutes until the prunes are soft. Add a little water if needed.
2. Place the chia, milk, cinnamon and vanilla in a bowl. Cover and leave overnight.
3. In the morning fold the prunes through or layer in a bowl. Top with nuts, banana or other fruit.
Share this:
More Food & Drink / Recipes