How to Take Chia From Slime To Sublime
Chia puddings a little bland? Try these two tested and flavour-packed recipes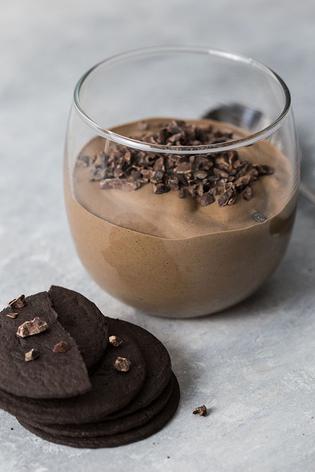 It was summer, a few years ago, and we were at a dear friend's house, finishing up a lovely, casual supper, when out of the fridge they came: little cups filled with chia pudding.
The guests - none of whom had tasted this before - were all polite, but the expressions around the table were quizzical, not enthusiastic.
Chia puddings, if you haven't had the pleasure, can sometimes suffer from a texture that might be charitably referred to as "viscous," less charitably as "slimy."
And this version had slime to spare. Plus, those little seeds don't carry much of their own flavour, and one of the only other ingredients was soy milk - a recipe for blandness.
READ: Healthy Rocky Road Ice Cream Recipe
Why use them? Two reasons, for starters. One, they have levels of essential omega-3 acids unrivalled by any other plant-based food, one of many nutritional benefits that are no doubt behind their continued surge in popularity.
Two, the same gelling ability that can lead to a slimy texture (not to mention a primordial, frog-larva look) also means they can magically hold together liquids for a take on a pudding that requires no custard making, or cooking of any kind. Try that with cornstarch.
READ: Do 'Superfoods' Really Work?
Still, I've thought many times about that dinner party, especially when I see the flood of chia puddings on Instagram and Pinterest. Could that many food bloggers really be wrong? I decided to try my own hand, to see whether my distaste at that first exposure was about the recipe, execution or something more fundamental. So I spent a few weeks playing around with recipes from blogs, websites and cookbooks.
My first realization: Ratio matters. A higher proportion of chia seeds to liquid - say, at least ⅔ cup chia to 3 cups liquid, but even as much as ¾ cup for just 2 cups liquid - results in a pudding that's on the firm side, which I appreciated. It's less viscous, more gelled.
Next, I played around with the liquid base. I wanted to keep things vegan, but I obviously didn't love that soy-milk recipe, and I wasn't much happier when I used almond milk (plus such flavourings as cocoa powder, maple syrup, vanilla and cinnamon).
But when I tried canned coconut milk - especially the full-fat variety - the pudding had much more body and flavour. Another approach I liked involved combining the chia with a blend of cashews and water, taking advantage of the setting qualities of both the nuts (which are a delicious staple for vegans trying to approximate cream) and the seeds.
READ:5 Chia Beauty Products to Try
Finally, I learned that if the fish-egg look bothers you, feel free to grind the chia seeds, which doesn't compromise their gelling abilities (a result of the seeds' outer coats releasing soluble fibre). Soon enough, I was blending them in with all the other ingredients in my Vitamix before refrigerating them.
The result: Two puddings, one chocolate and one berry, and both with tons of flavour, and little to no slime.
Some chia evangelists refuse to think that slime would ever be a problem anyhow. "I don't believe that word and the word 'chia' belong in the same sentence," said Janie Hoffman, founder of Mamma Chia and author of The Chia Cookbook (Ten Speed Press, 2014), when I mentioned it in a phone interview. "When you have the right ratio, the mouthfeel is really fun."
 READ: Chia and Prune Pudding Recipe
Wayne Coates, founder of AZChia.com and author of Chia: The Guide to the Ultimate Superfood was a little more even-handed: "I know for some people the texture can be an issue, but other people love it," he said. "So it really depends on what you like. There are chia recipes for everyone."
He's obviously right. Hoffman, for example, starts most days by stirring a chia gel into scrambled egg whites. While Coates's book features such treatments as chia corn bread and chia quesadillas, he says he is most likely to consume them straight, with a water chaser.
Now that I've got my own favourite approaches, I'll stick with my puddings. Then again, my chia experiments might just be getting started.
CACAO CHIA PUDDING
Serves 4 
If the dates are hard, soak them in hot water for an hour to soften, then drain before chopping. The pudding needs to be chilled for 4 hours before serving, and can be refrigerated for up to 3 days.
2½ cups water
1 cup raw cashews
5 soft dates (preferably Medjool), pitted and chopped (see headnote)
2 Tbsp vanilla extract
¼ tsp fine sea salt
½ cup raw cacao powder (may substitute regular unsweetened natural cocoa powder)
1/3 cup chia seeds (white or black)
Maple syrup (optional)
Cacao nibs, for garnish (optional)
Chocolate wafers, for serving (optional)
1. Combine the water, cashews, dates, vanilla extract, salt, cacao powder and chia seeds in a food processor or high-powered blender (such as a Vitamix); puree until very smooth. Taste, and add maple syrup, 1 tablespoon at a time, until your desired sweetness level is reached.
2. Divide the pudding among individual cups or transfer to a large container, cover and refrigerate until cold and set, about 4 hours.
3. Garnish with cacao nibs and serve with chocolate wafers, if desired.
BERRY CLOUD CHIA PUDDING
Serves 2-4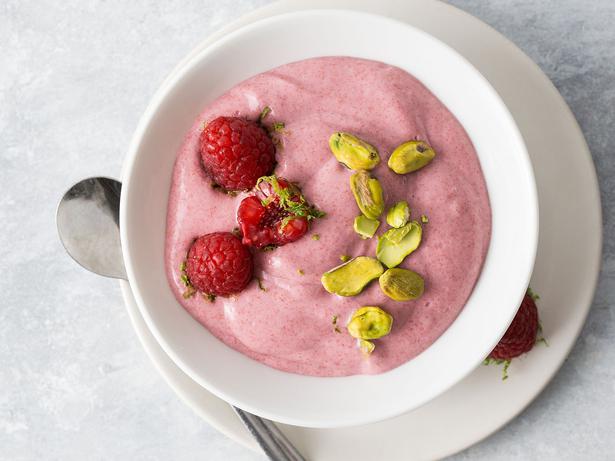 Using white chia seeds will help ensure a more vibrant colour, but if you can only find black ones, use them; the taste is identical, and both the black and white chia seeds thicken liquids in the same way. The pudding needs to be chilled for at least 2 hours before serving and can be refrigerated for up to 3 days.
2 cups hulled strawberries or raspberries (or a combination; may substitute frozen)
⅔ cup full-fat canned coconut milk, shaken before measuring
3 Tbsp chia seeds, preferably white (see headnote)
1 - 2 Tbsp honey
1 Tbsp fresh lime juice, plus 2 Tbsp finely grated lime zest (optional)
½ tsp vanilla, almond or lemon extract
¼ cup shelled, roasted pistachios, for garnish (optional)
½ cup fresh raspberries, for garnish (optional)
1. Combine the fruit, coconut milk, chia seeds, honey (to taste), lime juice and extract in a blender (preferably a high-powered one such as a Vitamix). Blend for 1 to 2 minutes, to form a smooth pudding.
2. Divide the pudding among individual cups or transfer to a large container, cover and refrigerate until cold and set, about 2 hours.
3. Garnish with pistachios, lime zest and raspberries, if desired, and serve.
Adapted from Chia: The Complete Guide to the Ultimate Superfood by Wayne Coates (Sterling, 2012).
— The Washington Post.
Share this: