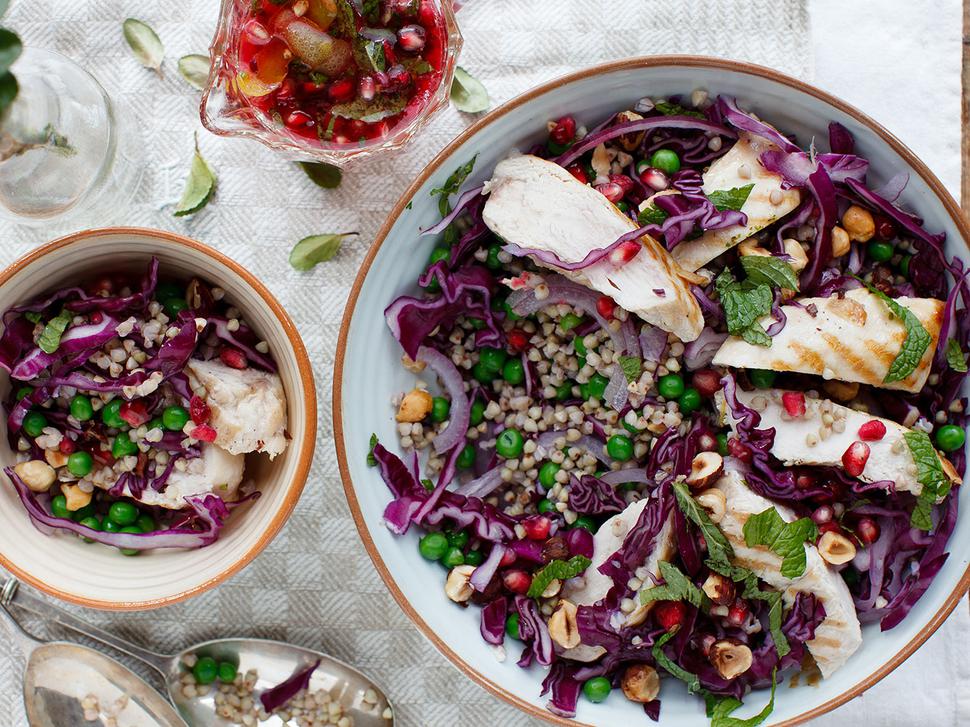 Chicken and Bulgur Wheat Salad Recipe
For a substantial mid-week dinner try Angela Casley's quick and healthy salad
Monday Oct. 5, 2015
CHICKEN AND BULGUR WHEAT SALAD
Serves 4
• ½ red onion, sliced
• 2 tsp sugar
• 2 Tbsp white wine vinegar
• ½ tsp salt
• 2 Tbsp olive oil
• ½ cup chopped mint
• Freshly ground pepper
• 2 cups red cabbage
• 2 cups cooked bulgur wheat
• 1 cup cooked peas
• 2 chicken breasts, pan-fried
• ½ cup pomegranate seeds
• ½ cup roughly chopped hazelnuts
• Extra mint to garnish
1. Place red onion, sugar, vinegar and salt in a small bowl, mixing well. Leave for 10 minutes to allow juices to be extracted from the onion. This is the base of your dressing. Add the oil, mint and plenty of freshly ground pepper.
2. Into a large bowl place the cabbage, bulgur wheat, peas and toss in the dressing. Leave to sit for 5 minutes.
3. Place the salad on a platter and top with warm chicken. Sprinkle over pomegranate seeds, hazelnuts and extra mint.
Share this:
More Food & Drink / Recipes