Chicken and Lime Stir-fry Recipe
Serve this simple and tasty dish with hot rice and a glass of good chardonnay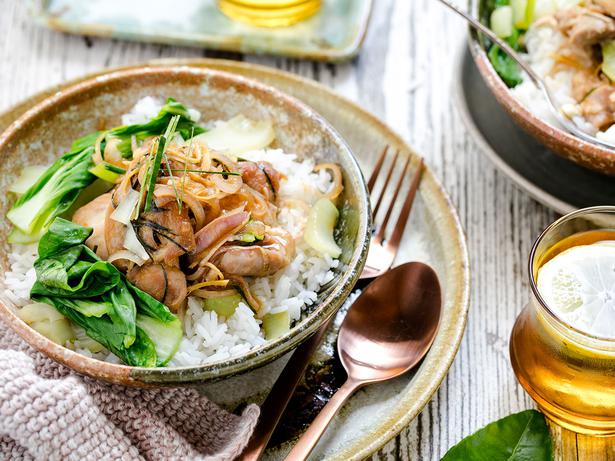 Friday Oct. 21, 2016
The flavour of the kaffir lime in this chicken dish is unique and memorable. You will find the leaves at supermarkets and you can freeze what you don't use, because you will be making this dish again, trust me. I like to serve it with hot rice and a glass of good chardonnay.
CHICKEN AND LIME STIR-FRY
Serves 4
1 Tbsp oil
2 kaffir lime leaves, cut in thin strips
1 Tbsp sesame oil
1 small onion, chopped finely
600g boneless chicken thighs, cut in half
3 Tbsp soy sauce
3 Tbsp mirin
2 tsp miso
2 bok choy, shredded coarsely
Thai basil to garnish
1. Heat the oil in a frying pan to a medium heat. Add the lime leaves, sesame oil and onion, cooking for 4 minutes until the onion starts to colour. Add the chicken and brown on both sides then continue to cook through.
2. Mix the soy, mirin and miso in a small cup then add to the chicken, stirring to combine.
3. Add the bok choy and cook for a few minutes to soften. Serve garnished with basil.
Share this:
More Food & Drink / Recipes