Chicken, Artichoke and Olive Salad Recipe
Try this recipe for chicken, artichoke and olive salad for Christmas Day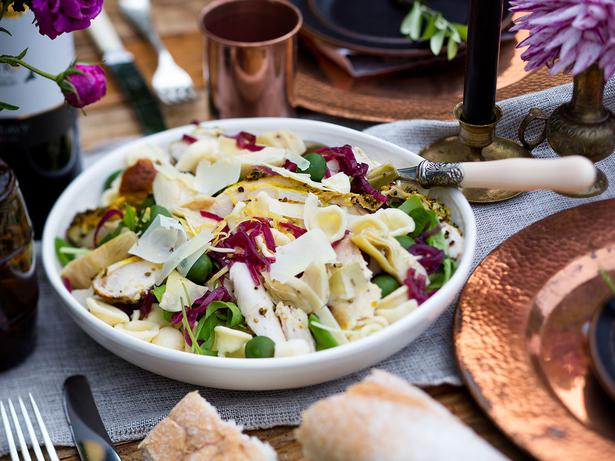 Friday Dec. 9, 2016
I've created a large chicken salad as a main dish, although you could use ham or turkey. You can make the salad earlier in the day and then toss through the dressing just before serving.
CHICKEN, ARTICHOKE AND OLIVE SALAD RECIPE
Serves 6-8
2 Tbsp olive oil
1 red onion, sliced
1 Tbsp balsamic vinegar
1 Tbsp brown sugar
3 cups cooked pasta (I used orecchiette)
2-3 cups rocket leaves
150g marinated artichokes (reserve 2 Tbsp juice)
½ cup green olives
600g roasted chicken, cut into pieces
Salt and pepper to season
50g shaved parmesan to serve
Dressing
2 Tbsp reserved juice of artichokes
Zest and juice of 1 lemon
½ cup garlic aioli
1. Heat the oil in a small frying pan. Add the onions and cook for 20 minutes until super soft. Add the balsamic and brown sugar and continue to cook for 10 minutes until slightly caramelised.
2. Into a large bowl place the pasta, rocket, artichokes, olives, onions, chicken, salt and pepper.
3. To make the dressing place the artichoke juice, lemon and aioli in a bowl and combine well. Toss through the salad and serve topped with shaved parmesan.
Share this:
More Food & Drink / Recipes