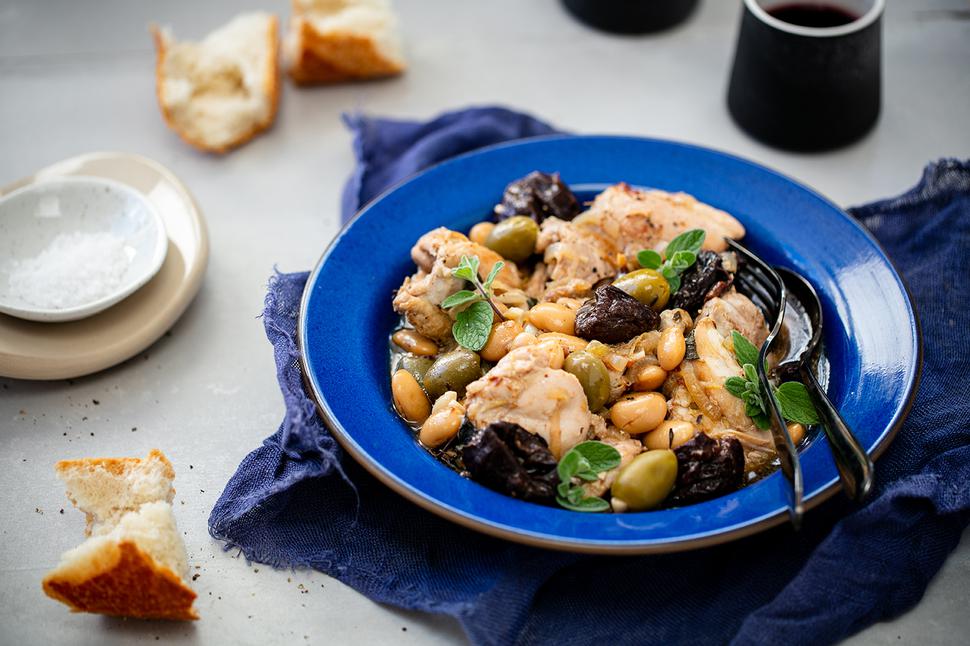 Chicken Casserole With Olives & Prunes
A supremely comforting combination of sweet prunes and salty olives to fill your weeknight
Monday May 17, 2021
Fresh oregano really shines in this dish, which is a classic combination of simple ingredients like garlic, wine, chicken and olives that really sing together.
CHICKEN WITH OLIVES AND PRUNES RECIPE
Serves 4
2 Tbsp olive oil
8 boneless chicken thighs
1 onion, sliced
3 cloves garlic, crushed
½ cup white wine
2 cups chicken stock
1 cup butter beans
12 prunes
2 stalks oregano
½ cup mixed olives
2 Tbsp fresh oregano leaves
Salt and freshly ground pepper
Oregano leaves to garnish
Crusty bread, to serve
1. Preheat an oven to 180C.

2. Heat the oil in a large frying pan. Brown the chicken on all sides and place into a casserole dish. In the same pan cook the onions and garlic for 4 minutes to soften. Add the wine, deglazing the pan. Add to the chicken.

3. Into the casserole add in the stock, beans, prunes, olives, oregano, salt and pepper. Place into the oven uncovered for 40 minutes, stirring once or twice during cooking.

4. Garnish with oregano leaves and serve hot with crusty bread.
Share this: