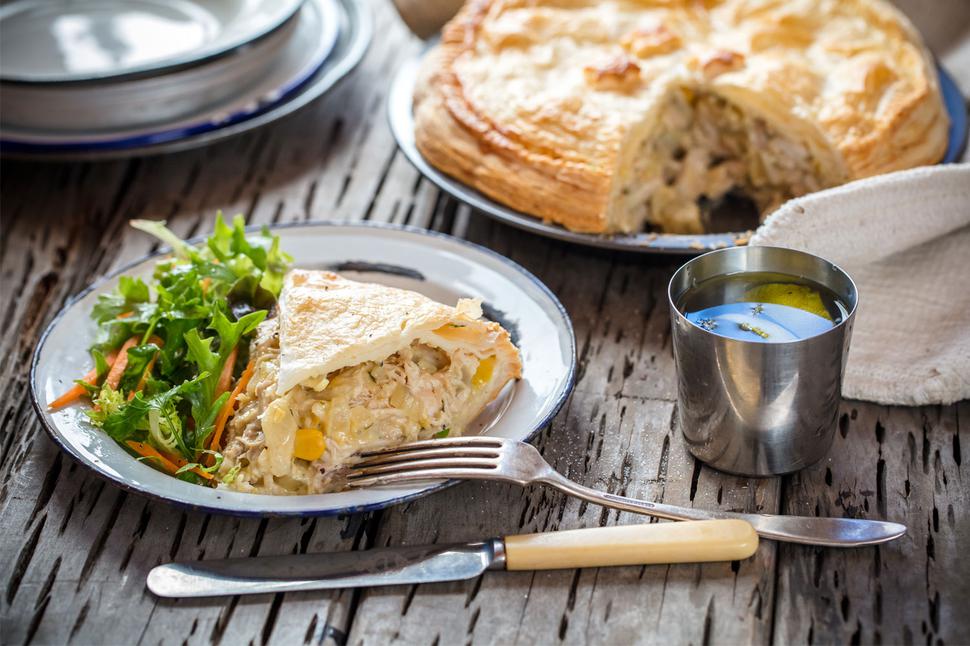 The Best Chicken & Corn Pie Ever
Escape winter with this hot and hearty classic
Wednesday June 6, 2018
After returning from a cycling trip through Ohakune, I had to share my take on some of the meals we were treated to courtesy of our hosts. 
At one lodge, at the Bridge to Nowhere, we ate the best chicken and corn pie ever, that was made with a hint of fresh herbs that were picked from the backdoor pots covered in netting to keep the chooks out. The rain had set in, so this hot dish was just what we needed as we ate in front of a roaring fire with a view of the Whanganui river. Remembering that the only transport to this lodge is by river, it was seriously impressive. 
CHICKEN & CORN PIE RECIPE 
Serves 4-6
20g butter
1 onion, chopped
1 clove garlic, crushed
2 Tbsp flour
1 cup milk
1 cup creamed corn
4 cups cooked chicken, roughly chopped
1 tsp salt and freshly ground pepper
¼ cup chopped parsley
2 tsp chopped fresh oregano
400g puff pastry
1. Melt the butter in a pot. Add the onion and garlic, cooking until softened but not brown. Add the flour and stir through, cooking for 2 minutes. Pour in the milk and continue to cook until it thickens. Stir through the corn and chicken. Season with salt and pepper. Remove from the heat, stir through the herbs and cool completely.
2. Preheat an oven to 180C.
3. Cut one third from the pastry for the top. Roll the bigger piece on a lightly floured bench and line a 23cm pie tin. Spoon the filling into the tin.
4. Roll the remaining pastry to fit the top of your pie. Press the edges together with a little water. Roll any extra bits into decorative shapes for the top.
5. Place into the oven for 30-35 minutes until the pastry is puffed and golden.
Share this:
More Food & Drink / Recipes