Chicken, Mango and Avocado Salad Recipe
Try this salad while mangoes are large, sweet and super juicy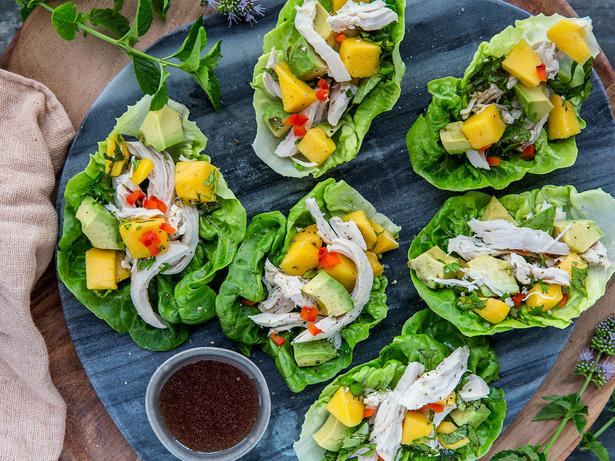 Friday March 17, 2017
The mangoes in store at present are large, sweet, super juicy and perfect combined with soft avocado, chicken and a tangy lemon dressing. A friend has given me a bag of small round super-hot chillies, which I added tentatively. I suggest going easy on the chilli, just a hint to start.
CHICKEN, MANGO AND AVOCADO SALAD RECIPE
Makes 12
Dressing
2 Tbsp oil
2 Tbsp White wine vinegar
1 Tbsp runny honey
½ cup mixed chopped mint and parsley
Salad
2 organic chicken breasts, cooked
1 mango, peeled, stone removed, cubed
1 avocado, stone removed, cubed
1 Tbsp lemon juice
1 tsp lemon zest
½ chilli, chopped finely (depending on the heat)
Salt and pepper to taste
12 baby cos leaves
1. Stir the dressing ingredients together in a small bowl.
2. Into a large bowl shred the chicken. Add the mango, avocado, lemon juice, zest and chilli. Combine and season.
3. On to a platter lay the cos leaves. Fill with spoonfuls of salad and spoon over the dressing. Enjoy with your fingers.
Be inspired by the good things in life. Sign up now to receive emails from Viva, and twice a week you will be sent the latest news, profiles, videos, fashion shoots, competitions and more.
Share this: