Chicken and Potato Curry Recipe
Tune into the Fijian culture with this tasty curry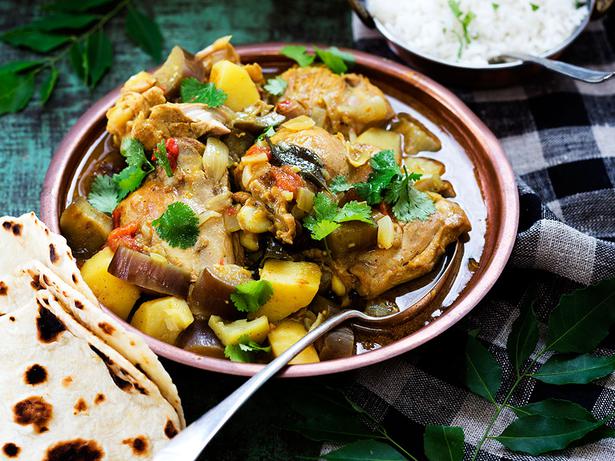 Tuesday April 7, 2015
CHICKEN AND POTATO CURRY
Serves 4
2 Tbsp oil
2 onions, chopped
6 cloves garlic, crushed
2 Tbsp grated ginger
1 tsp cumin seeds
1 tsp mustard seeds
½ tsp fenugreek seeds
2 Tbsp curry powder
¼ tsp chilli flakes
6-8 chicken thighs, skin removed
8 curry leaves
1 chopped tomato
2 cups water
2 large potatoes, cubed
1 aubergine, cubed
2 Tbsp coriander, to garnish
1. Heat the oil to a medium in a large pot. Add onion and garlic then cook for 3 or 4 minutes until soft. Add ginger, cumin, mustard seeds, fenugreek, curry and chilli. Stir until fragrant — about 2 minutes. Add the chicken, curry leaves, tomato, water, potatoes and aubergine. Bring to a simmer.
2. Cook for 30-40 minutes until the chicken is cooked through and the vegetables soft.
3. Garnish with chopped coriander and serve with homemade roti.
Share this:
More Food & Drink / Dinner