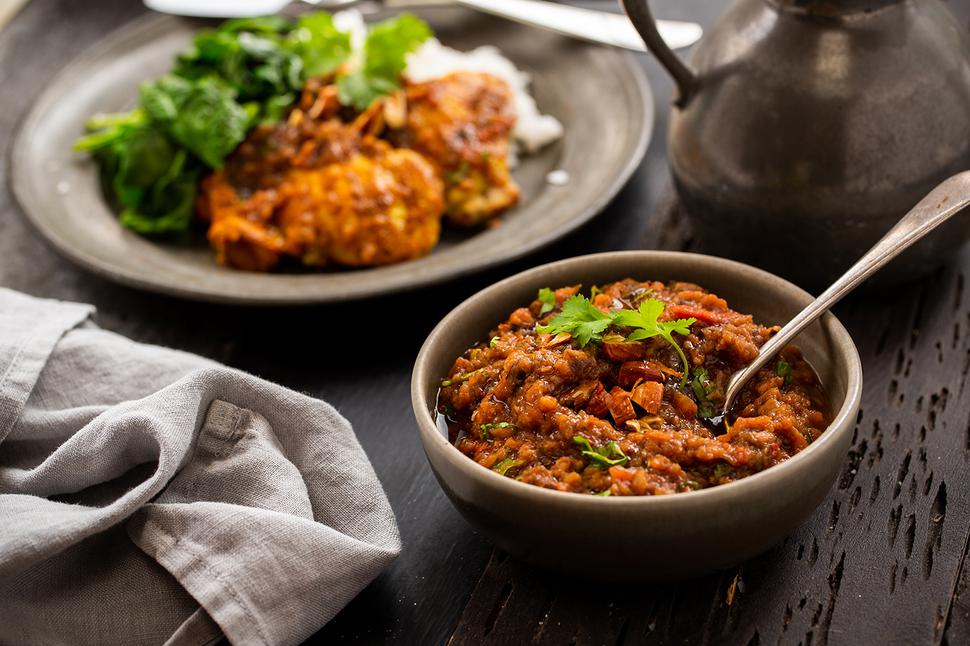 These Chicken Thighs With An Eggplant & Tomato Pickle Are Full Of Big Bold Flavours
Cinnamon and turmeric are key to this succulent chicken thigh recipe
Wednesday May 4, 2022
Add this pickle to an array of dishes. Replace the chicken with tofu, dollop the mixture on to a roast, or spread in a toasty. This recipe makes enough to last for a few dishes.
CHICKEN THIGHS WITH EGGPLANT AND TOMATO PICKLE RECIPE
Makes 2 cups
Pickle
¼ cup olive oil
1 red onion, grated
2 cloves garlic, crushed
2 Tbsp grated ginger
¼ tsp cinnamon, decent pinch cayenne
1 eggplant, peeled, chopped small
4 tomatoes, diced
2 Tbsp water
1 Tbsp tomato paste
¼ cup honey
Salt and pepper, to taste
Chicken
8 small chicken thighs
1 Tbsp olive oil
½ tsp turmeric
Pinch cinnamon
Salt and pepper
Rice and a green vegetable, to serve
1. In a heavy-based pot, warm the oil. Add the onion, garlic and ginger, cooking slowly until softened. Stir through the cinnamon and cayenne, then add the eggplant, tomatoes, water, paste and honey, stirring well. Cover and bring to a simmer for 20 minutes or until the mixture has softened. Cook for a little longer if needed. Cool for 10 minutes then blitz well, using a hand stick or blender. Season to taste.
2. Rub the chicken thighs with the oil, turmeric, cinnamon, salt and pepper. Cook in a large frying pan until golden and cooked through.
3. Serve the chicken hot with rice, a green and a good spread of pickle.
Share this: