Chicken Tikka Recipe
Try this chicken tikka recipe with wonderful flavours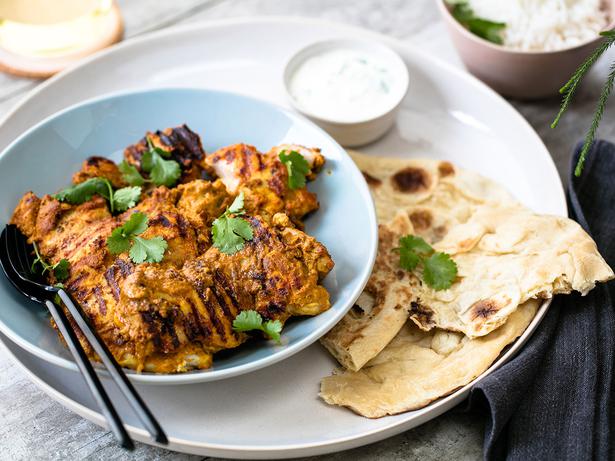 Friday Oct. 14, 2016
This chicken tikka is extra delicious when cooked on the barbecue, but still good cooked in a pan indoors if the weather isn't playing ball. Yoghurt is essential for tenderising the meat and helping to infuse the wonderful flavours of the spices.
CHICKEN TIKKA
Serves 4
5 cloves garlic, crushed
1 Tbsp grated fresh ginger
1 tsp turmeric
1 tsp garam masala
1 tsp ground coriander
1 tsp ground cumin
1 cup natural yoghurt
1 Tbsp tomato paste
1 tsp salt
8 boneless chicken thighs, halved
2 Tbsp oil
Coriander to garnish
Serve with naan bread and rice
1. Combine the garlic, ginger, turmeric, garam masala, coriander, cumin, yoghurt, tomato paste and salt in a bowl. Add the chicken thighs and cover with the spicy mixture, leaving to marinate for at least two hours or even overnight.
2. Heat the oil on a barbecue or in a frying pan. Cook the chicken for four minutes each side or until cooked through.
3. Serve hot with a sprinkle of coriander, rice and naan bread. The green slaw goes well with this.
Share this:
More Food & Drink / Recipes