Chickpea and Vegetable Salad Recipe
A three-step recipe for a delicious chickpea and vegetable salad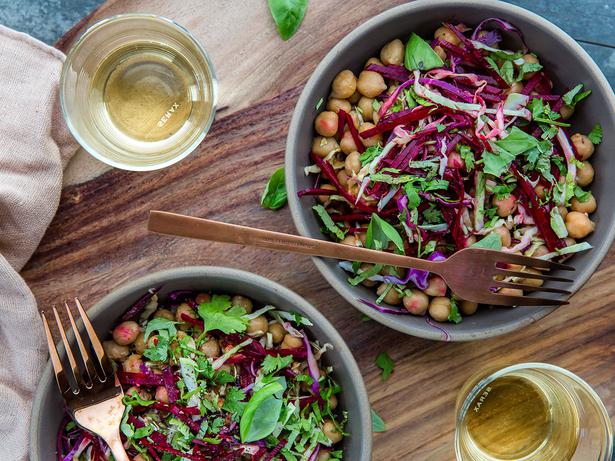 Friday March 17, 2017
Simply opening a tin of chickpeas is the first step in our next vegetable salad, which is wonderfully crunchy and garlic-y. Be careful not to dress this salad too early. Salt draws water from the cabbage and you don't want a puddle of juice at the bottom. Leave to dress right before serving. Saying that, any leftovers can be stored overnight for lunch boxes. Add some feta and a piece of chicken on top for some extra protein and, voila, a tasty lunch.
CHICKPEA AND VEGETABLE SALAD RECIPE
Serves 4-6
Dressing
¼ cup smooth peanut butter
2 Tbsp honey
2 Tbsp warm water
2 Tbsp lemon juice
2 cloves garlic, crushed
2 tsp fish sauce
2 tsp soy sauce
Salad
420g tin chickpeas, drained and rinsed
2 cups shredded green cabbage
1 cup shredded red cabbage
1 raw beetroot, peeled and cut into fine sticks
1 cup roughly chopped coriander
1. Firstly, make the dressing in a jar. Add the peanut butter, honey, water, lemon juice, garlic, fish sauce and soy, giving it a really good shake until smooth.
2. Into a large bowl place the chickpeas, cabbages, beetroot and coriander, tossing to combine.
3. Just before serving, stir through the dressing. Season with salt and freshly ground pepper.
Be inspired by the good things in life. Sign up now to receive emails from Viva, and twice a week you will be sent the latest news, profiles, videos, fashion shoots, competitions and more.
Share this: