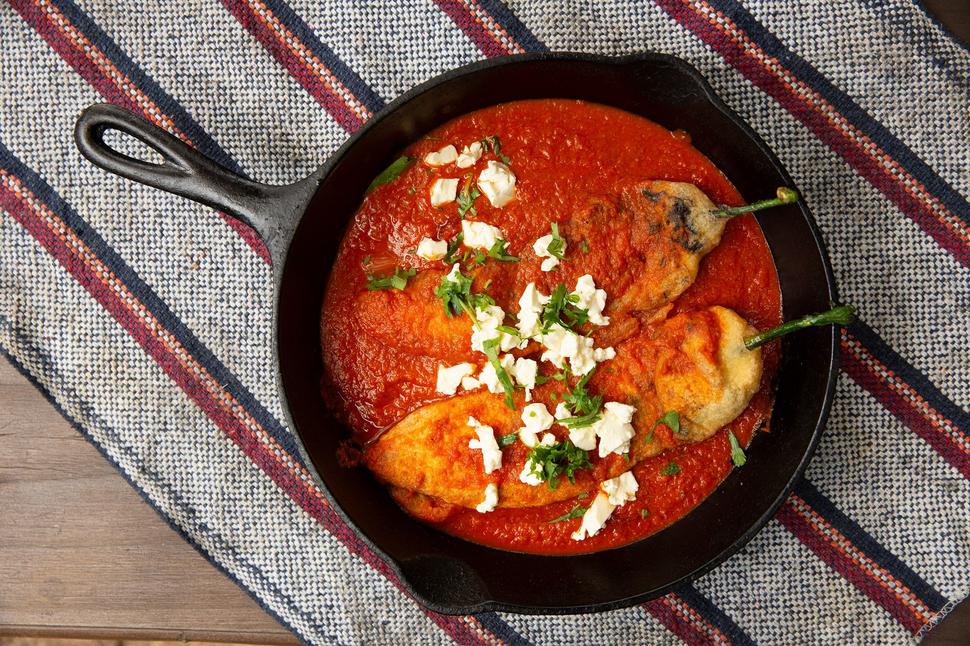 Chiles Rellenos (Mexican Stuffed Peppers)
Cazador chef and owner Dariush Lolaiy celebrates his Mexican heritage with this delicious chiles rellenos recipe
Wednesday March 11, 2020
This is a recipe chef Dariush Lolaiy learned from his mum (and co-founder of Cazador) Barbara, who grew up in Mexico. It's a family favourite.
CHILES RELLENOS RECIPE
Serves 4
8 large fresh poblano peppers
1 small onion, finely diced
Salt, to taste
1.5kg sweet and ripe vine tomatoes, roughly chopped
150g queso Oaxaca or Mexican queso fresco (substitute for haloumi if necessary), cut into 8 pieces
3 eggs (whites and yolks separated)
Flour to pané
1. Blister the skin of the poblanos over an open flame.
2. Make the sauce while you char the peppers. Sweat the finely diced onion in a little olive oil until softened but not coloured. Add the roughly chopped tomatoes and season with salt. Cook the tomatoes on medium heat for about 20 minutes. Blend the sauce until smooth and check seasoning.
3. When the poblanos are completely blackened, put them in a container with a lid to allow the skin to steam off. Use a cloth (never running water) to clean off most of the burnt skin. Make a small incision at the top of the poblano with the tip of a small knife. Cut out the seeds where they attach to the stem inside the pepper. Remove the seeds though the incision and replace with one piece of cheese. Tread a toothpick through the incision to 'stitch' pepper shut.
4. Beat the egg whites until they form stiff peaks. Gently fold the yolk into the whites until combined. Try to keep as much structure in the mix as possible.
5. Heat a pan with a few millimeters of cooking oil. Roll each pepper in flour and then the egg mixture so that it is coated. Gently place the battered pepper in hot oil. Cook a few at a time and turn regularly until they are golden brown on all sides. If the oil starts smoking or the peppers are cooking too quickly take the pan off the heat.
6. Transfer the cooked peppers onto a paper towel. Carefully remove the toothpicks from the peppers. When all peppers are cooked transfer the tomato sauce into a wide pan or casserole and nestle the cooked chillies in the sauce. Simmer on low heat for five minutes before serving, or if using a casserole place in a warm oven for five minutes.
7. Serve with Mexican rice or black beans. Buen provecho!
Share this:
More Food & Drink / Recipes