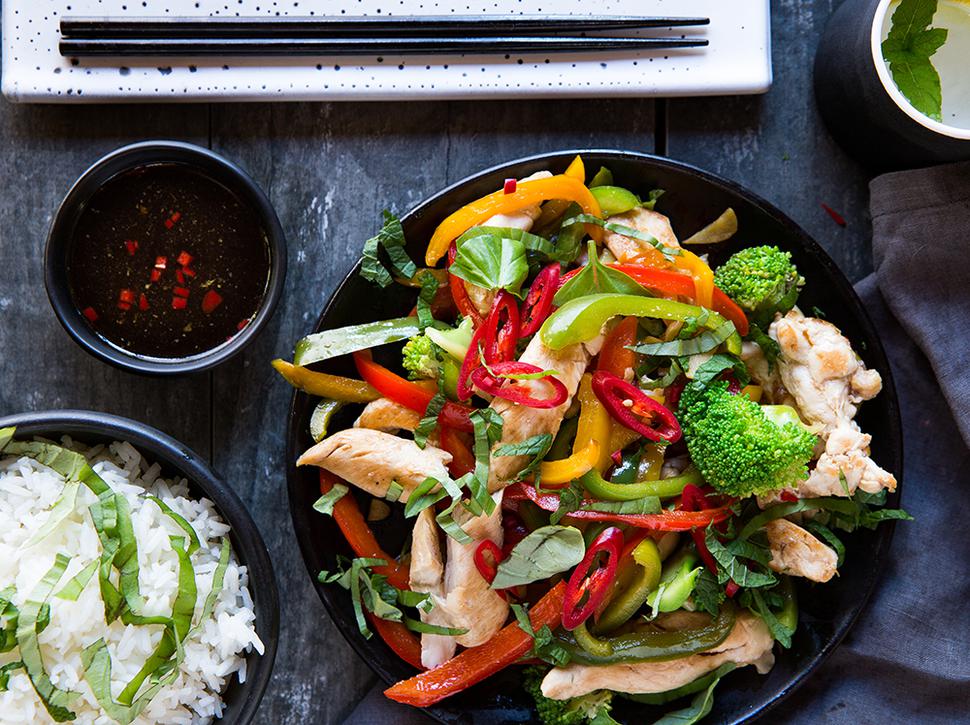 Chilli, Peppers & Chicken Stir-fry
Wok it like its hot with this quick-cook one pan wonder
Friday April 13, 2018
Anyone can put together today's chicken stir-fry. Have all the vegetables chopped and ready to go before the cooking begins. Cheat and cook the rice to accompany in the microwave. Having a few fresh herbs on hand will add to the flavour.
CHILLI, PEPPERS & CHICKEN STIR-FRY
Serves 4
¼ cup fish sauce
¼ cup soy sauce
1 Tbsp brown sugar
4 garlic cloves, crushed
½ red chilli, chopped finely, plus ½ for garnish
2 Tbsp olive oil
1 tsp sesame oil
400g chicken breast, sliced thinly
1 each of green and red pepper, sliced thinly
½ head broccoli, cut small
½ cup basil leaves, half shredded
1. In a small bowl combine the fish sauce, soy, sugar, garlic and ½ chilli, chopped finely. Slice the other half of the chilli for garnish.

2. Heat the oils in a large frying pan and cook the chicken. Remove to a plate and cook the peppers and broccoli until just cooked. Add the chicken back to the pan, stir through the sauce and heat.

3. Serve garnished with basil leaves, sliced chilli and some fluffy rice on the side.
Share this:
More Food & Drink / Recipes