Chocolate and Hazelnut Icecream Recipe
Who can resist a rich chocolate icecream?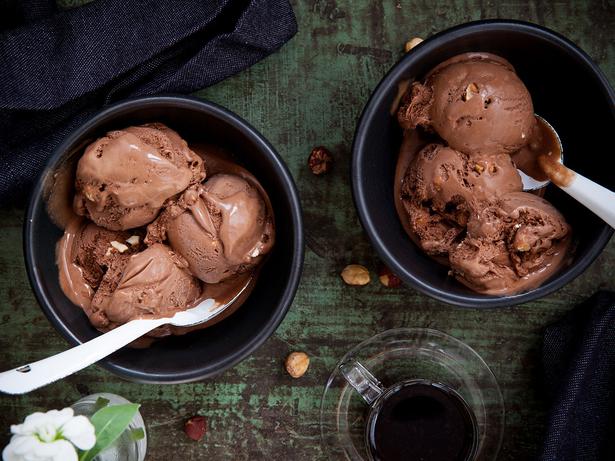 Thursday June 16, 2016
To round off an evening of decadence, who can resist a devastatingly rich chocolate icecream? Add freshly roasted hazelnuts for a surprise crunch and taste. This icecream will last in the fridge for two months. I love it with some stewed winter fruit or roasted rhubarb from the garden.
Chocolate and Hazelnut Icecream Recipe
Serves 6
• 6 egg yolks
• 1 cup caster sugar
• ¼ cup cocoa
• 2 cups cream
• 100g chocolate, chopped small
• ½ cup roasted hazelnuts, roughly chopped
1. Cream the yolks and sugar with an electric beater until pale. Sift in the cocoa.
2. Heat the cream in a pot until just boiling. Remove from the heat and stir through the chocolate. Pour slowly into the egg mixture, whisking as you pour until it is well combined. Return the mixture to a clean pot.
3. Place it back over a low heat, stirring until it starts to coat the back of your spoon. Pour into a clean bowl and allow to cool completely.
4. Churn using an icecream maker. As it churns,
add the hazelnuts. Return to the freezer until ready to serve. Alternatively, freeze for 2 hours. Beat and return to the freezer again.
Share this:
More Food & Drink / Recipes