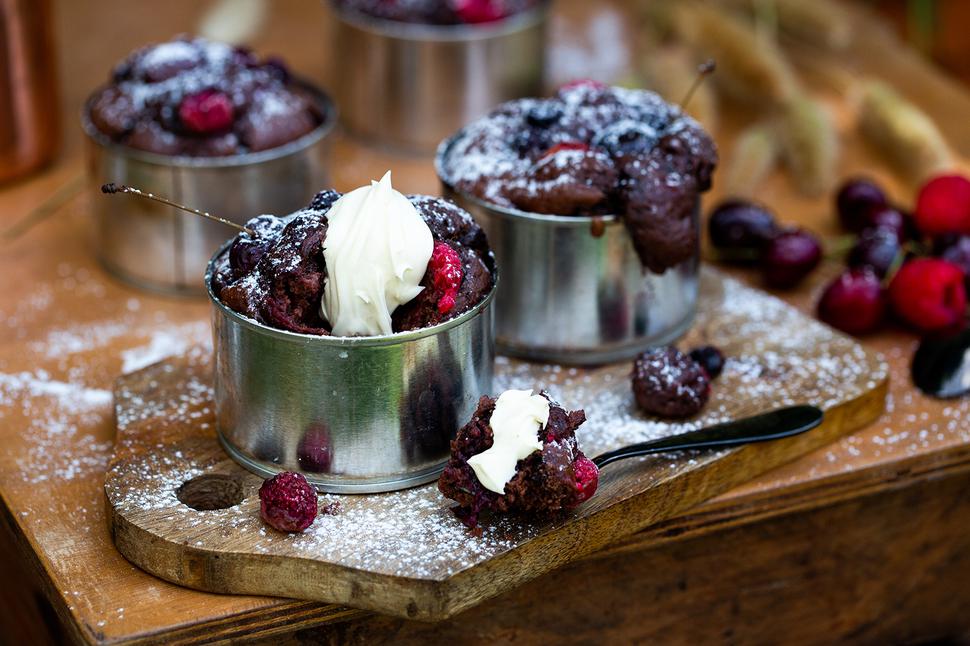 Chocolate & Berry Lava Cakes Recipe
These little cakes are the ne plus ultra of barbecued desserts
Saturday Dec. 19, 2020
To make these, I used old tins from previous lunches. They are perfect to place on a barbecue. You may get a few crispy bits around the edges, but that only adds to the experience. Using one bowl to mix the ingredients means fewer dishes.
CHOCOLATE & BERRY LAVA CAKES
Makes 6
2 cups self-raising flour
½ cup brown sugar
½ cup chocolate chunks
2 Tbsp cocoa
2 eggs
2 Tbsp melted butter
1 cup milk
¼ cup liqueur, e.g. Cointreau, optional
1 cup berries/cherries plus a few for decorating
Creme fraiche, to serve
Icing sugar, to dust
1. Get the barbecue to a medium heat. Grease 6 x 125ml barbecue-proof containers.
2. In a bowl combine the flour, sugar, chocolate and cocoa. Make a well in the middle and add the eggs, butter, milk and liqueur, stirring to combine. Fold through the fruit. Spoon the mixture into the tins.
3. Cover with tinfoil and place on the barbecue for 35 minutes, checking after 15 minutes. It depends on the heat as to how quickly they will cook. They will be soft to touch and a little oozy in the middle.
4. Serve with creme fraiche or cream and dust with icing sugar.
Share this: