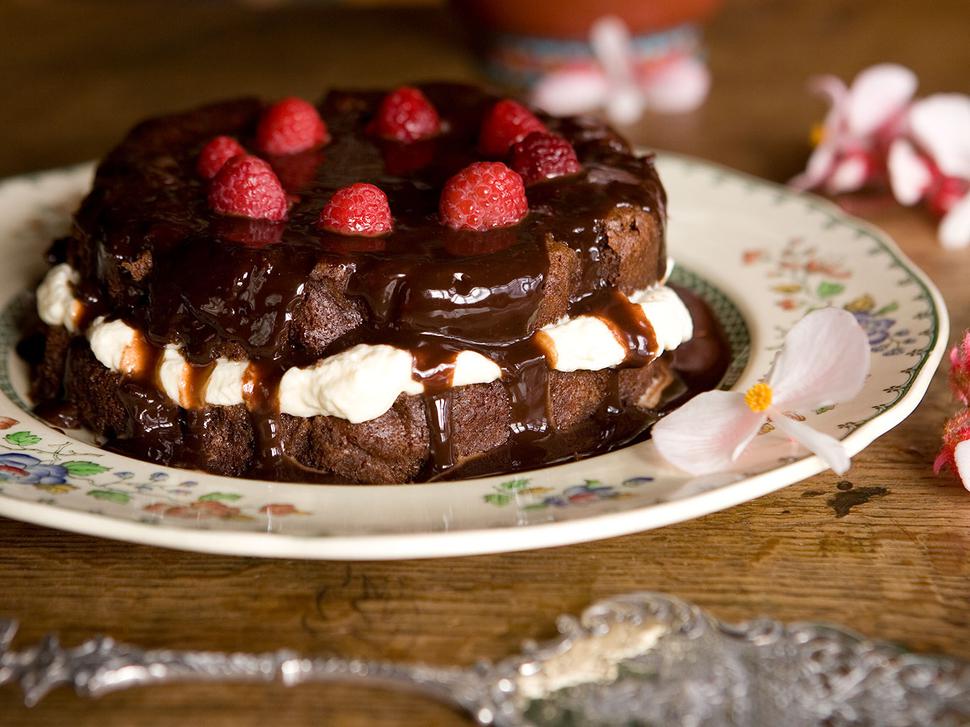 Chocolate Cake Recipe with Almonds and Raspberries
Try this delicious chocolate cake by Amanda Laird
Sunday May 4, 2008
CHOCOLATE CAKE WITH ALMONDS AND RASPBERRIES
Makes one 18cm cake
• 150g dark chocolate, chopped 
• 1 Tbsp brandy (optional) 
• 1 Tbsp instant coffee mixed with 
• 1 Tbsp hot water (or use 1 short black espresso) 
• 120g butter, softened 
• ½ cup caster sugar 
• 1 cup ground almonds 
• 3 eggs, separated 
• Whipped cream 
• Raspberries
Ganache
• 125g dark chocolate, chopped 
• ½ cup cream 
• ¼ cup milk
1. Preheat oven to 170C. Grease the cake tin and line with baking paper.
2. Put the chocolate, brandy and coffee in a bowl over simmering water. Stir gently and when melted, add the butter and sugar. Mix well then add the almonds.
3. Mix in the egg yolks one at a time. Beat the whites until firm then fold into the chocolate mixture and spoon into the prepared tin.
4. Bake for 40 minutes then test with a skewer and bake for another 5 minutes if necessary.
5. For the ganache, gently melt the chocolate, cream and milk over simmering water. Stir until smooth. When the cake has cooled, carefully halve and fill with whipped cream. Pour over the cake and top with raspberries.
Share this:
More Food & Drink / Recipes