Chocolate Cake Recipe with Chestnut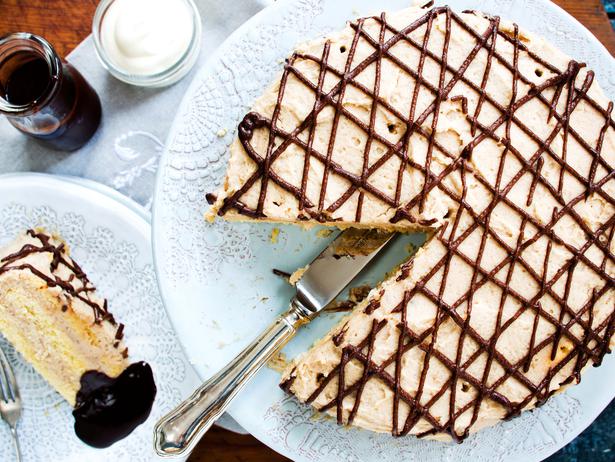 Friday July 11, 2014
CHESTNUT AND CHOCOLATE CAKE
Serve 8
3 eggs, separated
½ cup caster sugar
1 tsp vanilla essence
½ cup plain flour
¼ cup cornflour
1 tsp baking powder
Filling
400g unsweetened chestnut puree
¼ cup icing sugar
¼ cup brandy
250ml cream, whipped
50g dark chocolate
50ml cream, extra
1. Preheat oven to 170C. Line base of a 20cm tin with baking paper and grease sides.
2. Place egg yolks, sugar and vanilla in the bowl of an electric beater. Beat until thick and fluffy.
3. Sift flours and baking powder together. Beat egg whites until stiff. Fold flour and egg whites alternately into yolk mixture. Combine gently.
4. Pour into cake tin. Bake for 25 minutes or until middle of the cake bounces back when touched. Remove and cool for 15 minutes before removing from tin.
5. To make filling, beat chestnut puree with icing sugar and brandy, then fold through cream.
6. Slice cake horizontally into three slices. Place base on a plate. Layer the slices of cake with chestnut cream and then smother the remaining cream mix over the top and sides of the cake.
7. Melt chocolate and extra cream to a runny consistency. Drizzle over cake, reserving a little for serving.
8. Refrigerate until ready to serve.
Share this: