Chocolate Crepe Cake Recipe with Jam and Honey
Try this decadent chocolate crepe cake recipe by Eleanor Ozich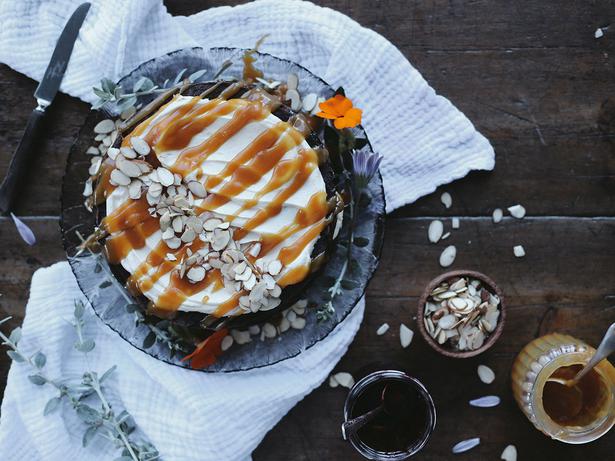 Thursday July 7, 2016
An interesting yet beautiful cake, one I made to celebrate a family members birthday. Thin chocolate crepes are layered with vanilla bean creme, black currant jam and honey dulce de leche. Seriously rich and decadent, to be enjoyed in small, thin slices.
CHOCOLATE CREPE CAKE RECIPE WITH BLACKCURRANT JAM & HONEY DULCE DE LECHE
Serves 10-12

For the honey dulce de leche:
200 ml cream
 ¼ cup honey
a pinch of sea salt
For the jam:
2 cups fresh or frozen blackcurrants
2 heaped tablespoons honey
1 teaspoon pure vanilla extract
½ cup water
1 Tbsp lemon juice
For the crepes:
10 free-range eggs
2 cups rice flour
½ cup coconut sugar
2½ cups almond milk, or milk of your choice
For the vanilla bean cream:
3 cups mascarpone
3 tsp pure vanilla bean paste
 ¼ cup silvered almonds to decorate
1. Start by making the dulce de leche sauce. Place the cream, honey and sea salt in a small saucepan over medium heat.
2. Bring to a gentle boil, then reduce the heat to low. Simmer for 10-15 minutes or until the mixture is a lovely golden colour. Stir often towards the end as it can burn easily. remove from the heat and leave to cool slightly. Stir vigorously for a minute or so and watch the sauce become thick and velvety.
3. Combine the berries, honey, vanilla extract and water in a small saucepan over medium heat. Bring to a soft boil, and simmer for 15-20 minutes or until thick and glossy.
4. Stir in the lemon juice, then leave to cool.
5. Add all the crepe ingredients to a blender or food processor. Add a pinch of sea salt and blend until smooth. Transfer to a pitcher, to make pouring into the pan easier (my blender is a great pitcher already).
6. Combine the cream and vanilla in a bowl and mix well. Place in the fridge.
7. To cook the crepes, place a large greased pan over medium–low heat. With the batter in one hand and the hot pan in the other, slowly pour the batter into the pan, swirling the pan until there is enough batter to just coat the bottom of the pan. Cook until slightly browned at the edges, then flip with a spatula and brown on the other side. Flip onto a plate, then continue cooking the remaining batter.
8. To assemble the cake, place one crepe on the bottom of a large serving plate. Spread a thin layer of the cream filling over the crepe. Stack another crepe on top, then spread with the jam, alternating each layer with the cream. Continue the layers until you have nearly run out of the filling or crepes, whichever comes first.
9. Finish off the last crepe with a layer of the cream, then decorate with the dulce de leche and almonds.
10. The crepe cake is best eaten the same day.

• For more from Eleanor Ozich see petite-kitchen.com
Share this: