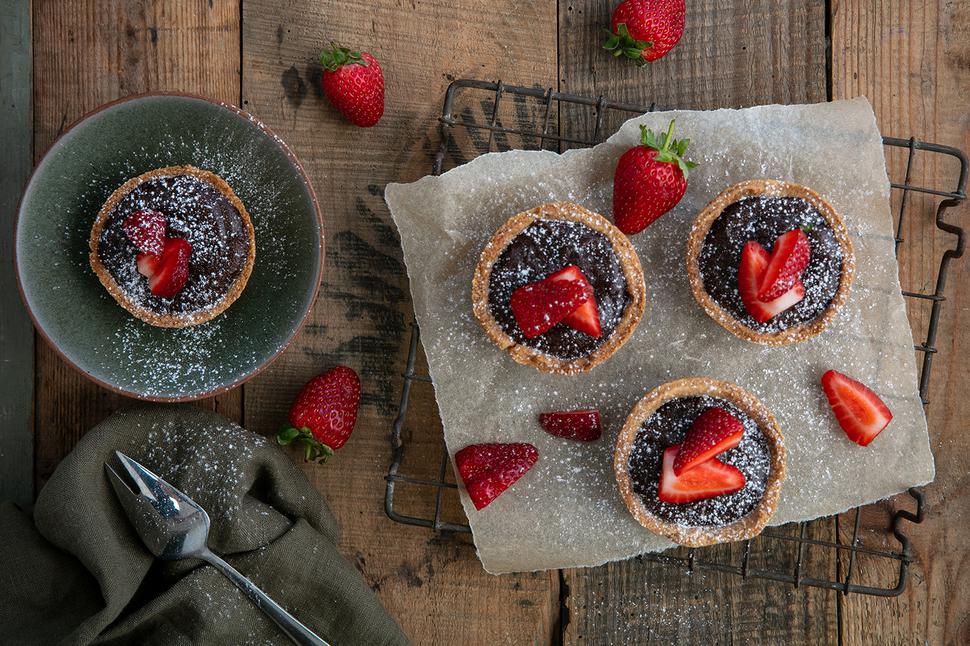 Sweet Tooths Should Try These Exquisite Chocolate Custard Tarts With Fruit
You will taste the difference using good-quality chocolate in these decadent, custard-filled morsels
Wednesday March 30, 2022
Spoil yourself with these decadent chocolate tarts. Store in an airtight container in the fridge and they will last for a week. Top with a bit of lightly whipped cream. 
CHOCOLATE CUSTARD TARTS WITH FRUIT RECIPE
Makes 12
Pastry
1 ½ cups flour
100g butter
2 Tbsp caster sugar
1 egg yolk
1 tsp vanilla
2 Tbsp cold water
Filling
3 egg yolks
½ cup sugar
1 tsp vanilla
2 Tbsp cornflour
¾ cup cream
1 cup chopped dark chocolate
Fruit, to serve
1. Preheat an oven to 180C.
2. Firstly, make the pastry cases. Place the flour, butter and sugar in a food processor, blitzing to a fine breadcrumb texture. Add the egg, vanilla and water and blitz to form a dough. Roll on a lightly floured bench to 5mm thick. Cut 12 circles to fit a large muffin tray. Bake blind for 15 minutes. Remove and turn the oven down to 170C.
3. To make the custard, whisk the egg yolks, sugar, vanilla and cornflour until light and creamy. Warm the cream and whisk into the mixture. Place in a clean pot, whisking as it heats through until it starts to thicken and you have a lovely smooth custard. Remove from the heat and add the chocolate.
4. Let it sit for a couple of minutes then stir until smooth. Spoon the chocolate custard into the tart tins. Bake for 15 minutes. Remove and cool completely.
5. Serve with your favourite seasonal fruit.
Share this: