Chocolate, Fig and Walnut Meringue Cake Recipe
Can't decide between meringue or cake? Have them both!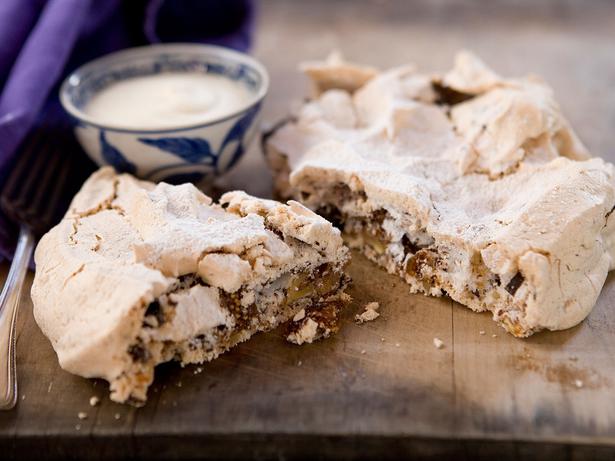 Wednesday Aug. 27, 2008
CHOCOLATE, FIG AND WALNUT MERINGUE CAKE
Serves 4
• 100g dark chocolate
• 4 dried figs
• 12 walnuts
• 1 tsp vanilla essence
• 2 tsp cornflour
• 3 egg whites
• 1 tsp apple cider, or white vinegar
• 3/4 cup caster sugar
• icing sugar, to serve
• cream, to serve
1. Preheat the oven to 150C. Chop the chocolate, finely slice the figs and roughly chop the walnuts. Mix together with the vanilla and the cornflour.
2. Beat the egg whites with electric beaters until stiff, add the vinegar and half of the sugar and beat well. Continue beating while adding a spoonful of the remaining sugar at a time until the meringue is glossy.
3. Fold in the chocolate, fig and walnut mixture, then spoon the mixture on to baking paper and bake for 1 hour. Dust with icing sugar and serve with cream.
Share this:
More Food & Drink / Recipes