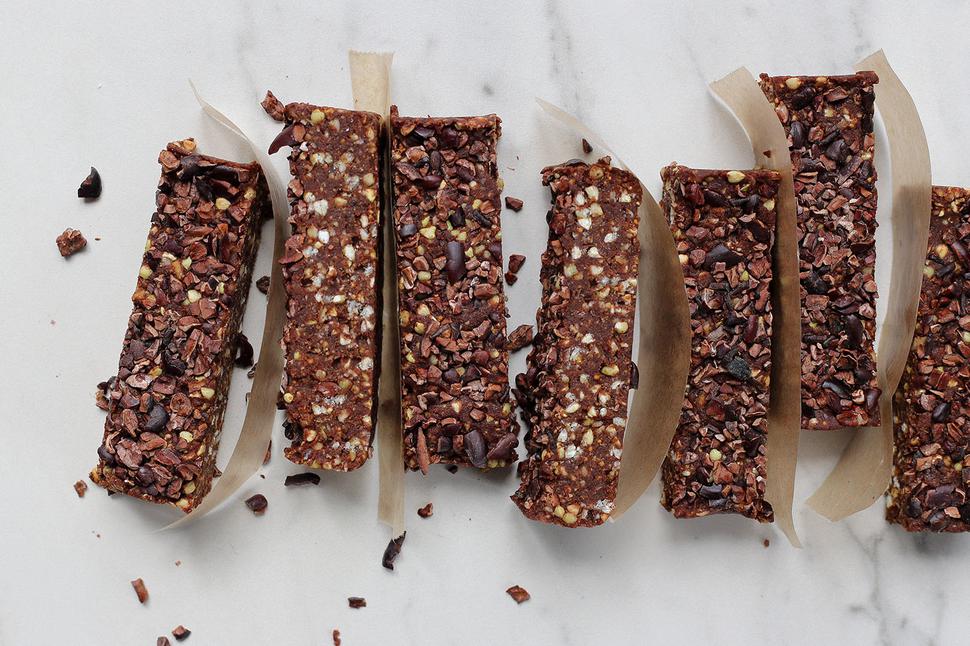 Chocolate, Fig & Buckwheat Brownie Bars
A heavenly combination of gooey dates, cocoa, coconut oil and ground almonds
Thursday March 15, 2018
These lusciously textured fig and buckwheat brownie bars are what I turn to when I'm looking for a delicious pick-me-up, or sweet end to a meal. They're effortlessly easy to make - a heavenly combination of gooey dates, good-quality cocoa, coconut oil and ground almonds.
I also love how the addition of buckwheat adds a pleasingly intriguing crunch. Cut into thick, decadent slices, and eat with joy.
CHOCOLATE, FIG & BUCKWHEAT BROWNIE BARS
Makes 8 bars
1 cup pitted fresh dates
½ cup dried figs, roughly chopped
¾ cup good quality cocoa or cacao
1 cup ground almonds, or ground nuts of your choice
2 tsp vanilla bean extract
A pinch of sea salt
½ cup melted coconut oil
1 cup buckwheat
¼ cup cacao nibs
1. Add all ingredients to a food processor, except for the coconut oil and cacao nibs. Process for twenty seconds or so, or until the mixture resembles coarse crumbs.
2. Add the coconut oil, and continue to pulse until the mixture starts to come together.
3. Press the mixture evenly into a loaf tin lined with baking paper, sprinkle the cacao nibs on top, and press down lightly.
4. Pop in the fridge for at least two hours to set.
5. Once ready, slice into thick bars and store in an airtight container in the fridge.
Share this:
More Food & Drink / Recipes