Chocolate Hazelnut Filo Cigars Recipe
Try these rich and nutty flavoured cigars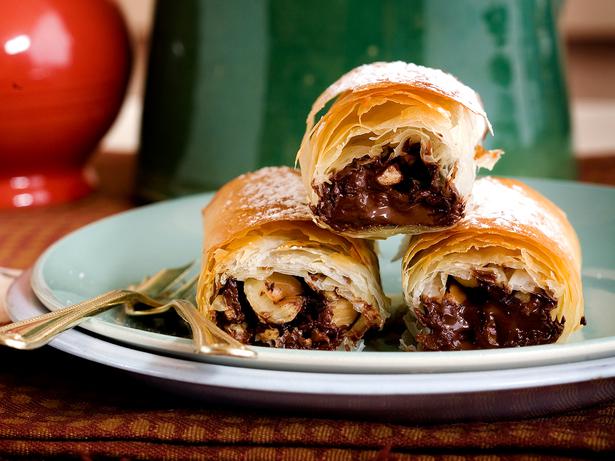 Wednesday July 20, 2011
CHOCOLATE HAZELNUT FILO CIGARS
Serves 12
100 g Dark chocolate, roughly chopped
1 cup Hazelnut, toasted and chopped
2 Tbsp Brown sugar
2 Tbsp Oranges, zest
1 Tbsp Frangelico liqueur
150 g Butter, melted
12 sheets Filo pastry
2 tsp Icing sugar, to dust + add to shopping list
1. Combine the hazelnuts, chocolate, sugar, orange and frangelico in a bowl and mix well.
2. Preheat oven to 180C. Place one sheet of filo on the bench. Brush with melted butter, then cover with a second sheet.
3. Spoon some of the mixture along the edge then fold over the sides and roll tightly. Brush with butter and place on a baking tray.
4. Repeat the process until the mixture is finished. Bake for approximately 20 minutes or until golden. Let cool before cutting into pieces and dusting with icing sugar.
Chef's tip: When melting chocolate, roughly chop or grate it first. Chocolate needs to be melted over a gentle heat, preferably in a bowl over simmering water. If too hot the chocolate will split and burn. A microwave works well as long as you heat gently. Chocolate only needs to be warm to melt.
Share this:
More Food & Drink / Recipes