Chocolate Mousse Cups Recipe
Dense, yet delicate and smooth, try this tasty chocolate mousse recipe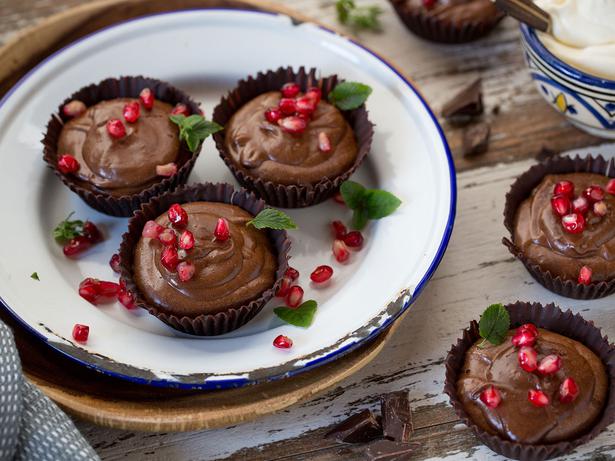 Friday May 19, 2017
I have been making chocolate mousse for years. Dense, yet delicate and smooth, it is the perfect way to end a meal. This time I've included pomegranate seeds for colour and crunch and don't forget a dollop of cream. Making individual chocolate cups ahead of time is perfect for portion control, and means you don't need to fuss between courses.
CHOCOLATE MOUSSE CUPS RECIPE
Makes 6
200g dark chocolate
50g butter
2 eggs, separated
1 Tbsp caster sugar
½ cup pomegranate seeds
Mint leaves to garnish
150ml cream lightly whipped
1. Place 100g chocolate in a heatproof bowl over simmering water. Stir until the chocolate is smooth and silky. Remove from the heat.
2. Using a knife or pastry brush, spread the chocolate around the base and edges of six paper muffin containers. Chill until set. Carefully remove the paper cases.
3. Heat the remaining chocolate and butter in the bowl over water. Remove from the heat, cool for five minutes then beat in the egg yolks one at a time until the mixture is smooth.
4. Beat the egg white until soft peak stage. Add the sugar and beat for another minute. Fold gently into the chocolate mixture until well combined. Spoon into your chocolate cases. Chill until ready to serve.
5. Remove from the fridge 10 minutes before serving. Sprinkle with pomegranate seeds and mint leaves.
6. Don't forget a dollop of cream.
Share this:
More Food & Drink / Recipes