Chocolate Mousse Recipe with Coffee Mascarpone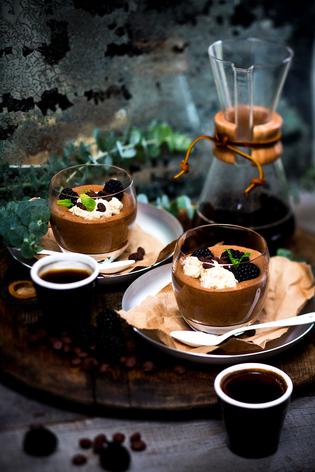 CHOCOLATE MOUSSE WITH COFFEE MASCARPONE
Serves 6-8
150g chocolate
40g butter
¼ cup strong coffee
200ml cream
50g caster sugar
3 eggs, separated
Coffee mascarpone
Mix 100g mascarpone, 1 Tbsp icing sugar and 2 tsp strong coffee.
1. Place the chocolate, butter, coffee and 100ml cream in a small saucepan. Heat slowly, stirring until the chocolate melts. Remove from heat and cool for 10 minutes.
2. In a bowl, place the sugar and egg yolks. Beat until light and creamy in colour. Add the chocolate mixture and mix well.
3. In a clean bowl beat the remaining cream until it forms light peaks. Fold through the chocolate mixture.
4. Beat the egg whites until they hold their shape. Gently fold through the chocolate mixture. Pour into individual glasses or one large bowl. Refrigerate for at least 4 hours or overnight.
5. Just before serving place a dollop of coffee mascarpone on top and a few berries.
Share this:
More Food & Drink / Recipes