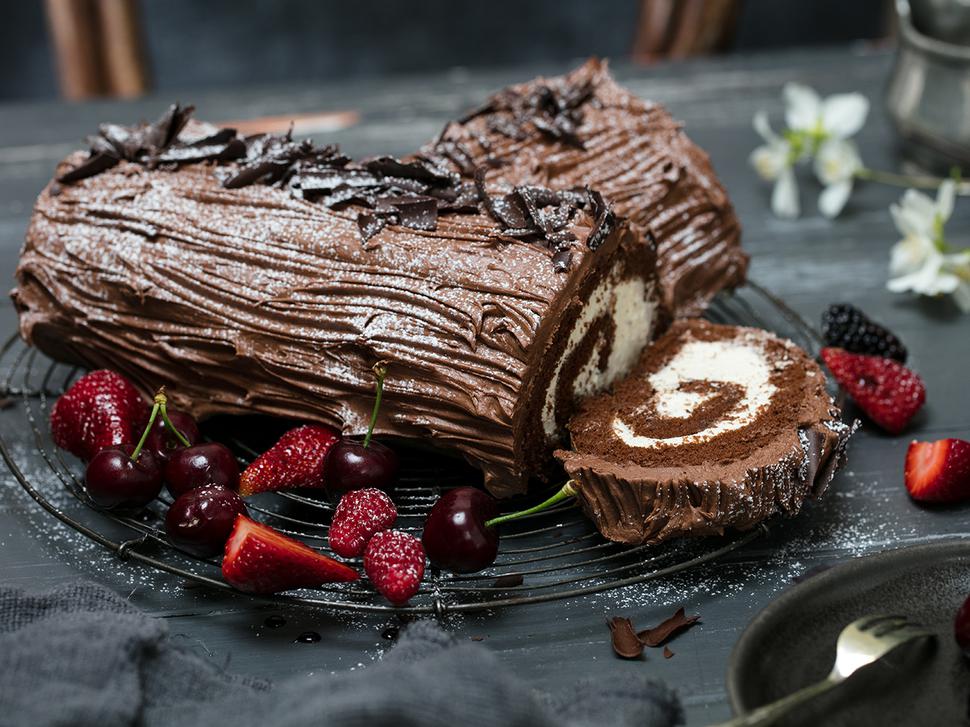 Chocolate Roulade with Pomegranate Molasses
An easy festive dessert that's light, creamy and oh-so-chocolatey
Wednesday Nov. 29, 2017
This roulade is perfect for chocolate lovers. It's flourless, light, creamy and rich. It's always a hit with the berries and the sweet surprise of the pomegranate syrup. It's the perfect Christmas treat to be shared. 
CHOCOLATE ROULADE WITH POMEGRANATE MOLASSES
Serves 8
Sponge
180g dark chocolate, broken into squares
8 large eggs, separated
200g caster sugar
3 Tbsp cocoa
500ml cream
Icing
150g cream cheese
20g butter, melted
3 cups icing sugar
150g dark chocolate, melted
Sauce
2 punnets strawberries, topped
¼ cup pomegranate molasses
2 Tbsp orange juice
To decorate
Cherries and other berries
Icing sugar to dust
1. Preheat an oven to 170C. Line a 30 x 40cm Swiss roll tin with baking paper.

2. Over a pot of simmering water, melt the chocolate until smooth, then cool for 10 minutes.

3. Beat the egg yolks and sugar until thick and creamy. Stir through the cocoa and melted chocolate.

4. Beat the egg whites until stiff. Fold through the chocolate mixture gently and pour into the tin spreading evenly. Bake for 15 minutes until just set in the middle. Remove from the oven and allow to cool for 15 minutes.

5. Spread a tea towel on the bench and place a large piece of baking paper on top. Invert the roulade on to the paper and peel carefully off the bottom piece. Cover and leave until cool.

6. Whip the cream until it forms soft peaks. Spread over the roulade. Using the edge of the paper, roll the roulade from the long side into a log. Wrap in the paper and refrigerate until needed.

7. For the icing, beat the cream cheese, butter and icing sugar until smooth. Fold through the chocolate.

8. Ice the roulade in one long roll or cut a segment, stick it to the side on an angle to create the log effect. Use a fork to create the bark pattern. Add shaved chocolate if desired. Place the roulade in a cool place until ready to serve.

9. Combine the strawberries, pomegranate and juice. Place in a bowl to be served alongside the roulade.

10. Just before serving, sprinkle the roulade with icing sugar and fresh berries.
Share this:
More Food & Drink / Recipes