Chorizo and Fennel Risotto Recipe
A picante chorizo collar is the hero of this quick risotto dish, perfect for a chilly day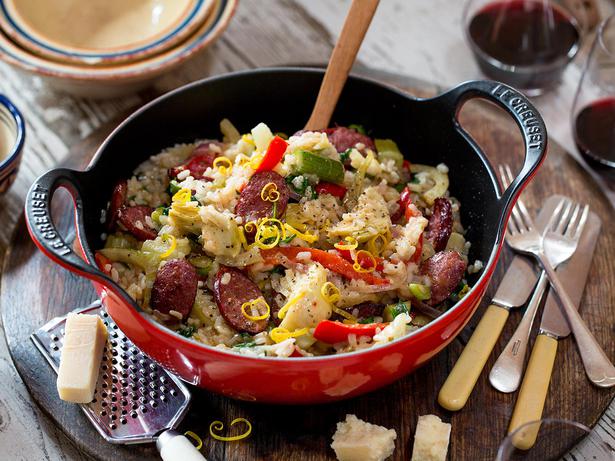 Friday July 7, 2017
A picante chorizo collar is the hero of this quick risotto dish, perfect for a chilly day. The hint of spicy sausage works beautifully with creamy rice and red pepper. One of my favourite meals is a risotto; one pot oozing with beautiful flavours.
CHORIZO AND FENNEL RISOTTO RECIPE
Serves 4
2 Tbsp olive oil
1 red onion, sliced thinly
2 cloves garlic, crushed
1/2 head fennel, sliced thinly
1 red pepper, sliced thinly
½ tsp smoked paprika
1 cup Arborio rice
½ cup white wine
1 Tbsp lemon zest
1 litre chicken stock, warmed
1 Tbsp butter
½ cup grated parmesan cheese
1 chorizo sausage, sliced thinly
1 spring onion sliced
Serve garnished with a little lemon zest
1. Warm the oil in a heavy-based pot. Add the onion, garlic, fennel and pepper cooking for three or four minutes until softened. Stir through the paprika then add the rice and cook for two minutes until well coated. Pour in the wine and cook until it has evaporated.
2. Add the lemon zest and chicken stock stirring well. Cover for 10 minutes, then stir again and continue to cook for another 10-15 minutes until the rice is cooked. Remove from the heat.
3. Add the butter and parmesan cheese stirring through.
4. Heat a small frying pan to a medium heat. Cook the chorizo sausage until crispy then stir through the spring onion to soften.
5. Spoon the risotto on to a serve platter and top with chorizo.
Share this:
More Food & Drink / Recipes