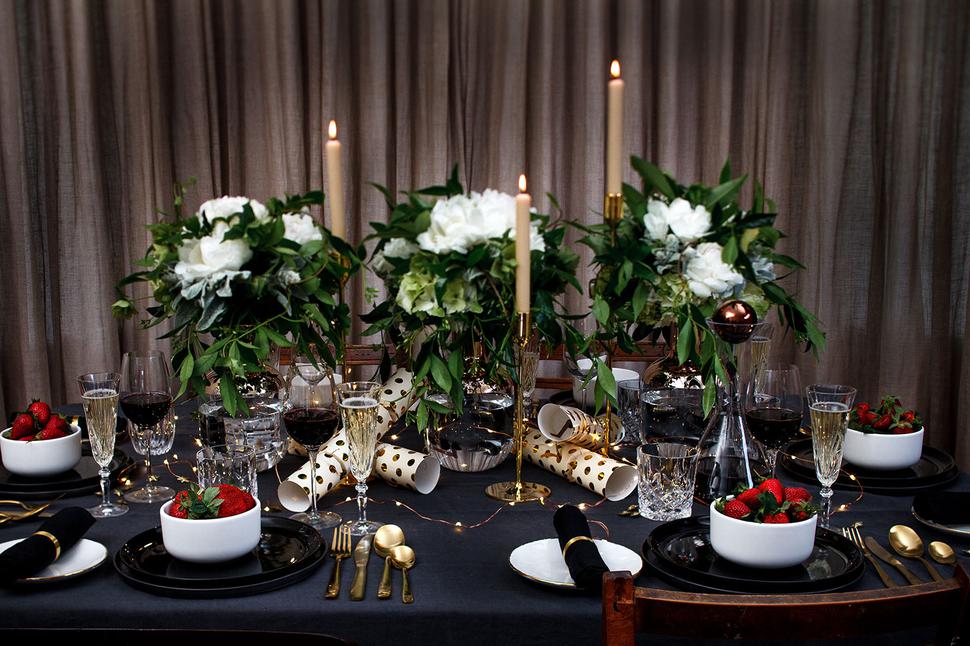 What to Make for Christmas Dinner
Believing in 'the more, the merrier' at Christmas, Angela Casley creates an elegant dinner for a night to remember
Wednesday Dec. 2, 2015
There's something special about family and friends gathering around a beautifully dressed table and eating dinner by candlelight. Creating a beautiful Christmas dinner that reflects the elegance of the setting is all-important, yet you still want it to be relaxed for the chefs in the kitchen.
This terrine looks fabulous and tastes delicious, with pistachios adding a vibrant green colour and fresh crunch. I make it a couple of days ahead of time, wrap it up and forget about it until an hour before serving. No fancy tin is needed — a simple loaf tin does the job. For a more casual approach place the terrine in the middle of the table with a freshly sliced baguette, or you can slice and plate individually and elegantly with a herb garnish.
Carving the turkey is always a big part of the ceremony. All eyes are on the carver as they navigate their way around the bone. To make things easier, this boned turkey with cranberry, apple and nut stuffing is perfect. Use the turkey carcase to make a tasty stock.The gravy can be made ahead of time and reheated for serving.
Nothing beats a spectacular dessert, and this strawberry layer cake is wonderfully decadent. Set aside time the day before to make and build the cake, so you can relax on the day. It's the perfect finale to Christmas dinner and also good for a lunch or afternoon tea. It's a great use of sweet seasonal strawberries and the tang of lemon in the middle adds a surprise touch.
My final tip? Christmas should be fun for everyone, so don't forget to delegate!

Recipes:
• Pork and Pistachio Terrine
• Boned Turkey with Cranberry, Apple and Nut Stuffing
• Strawberry Layer Cake

Karen Walker crackers, side plates from Collected, cutlery from Seletti, fairy lights and plates from Father Rabbit, napkins from Taylor Road Homeware, glassware from The Studio of Tableware, plates, vases and bowls from Nest, napkin holders, tablecloth and dish from Tessuti, star decorations from Milly's Kitchen, decanter, cake stand and platter from ECC, candlesticks and cake slice, from Simon James. With thanks to Cartier for Flowers.
STOCKISTS: Cartier for Flowers (09) 523 3546, Collected (09) 630 9721, ECC (09) 379 9680, Father Rabbit (09) 360 2573, Karen Walker (09) 522 4286, Milly's Kitchen (09) 376 1550, Nest (09) 302 5704. Simon James (09) 376 6955, Taylor Road Homeware (09) 378 1948, Tessuti (09) 376 4802, The Studio of Tableware (09) 638 8082.
Photographer / Babiche Martens. Food Stylist / Angela Casley. Props Stylist / Anna Lee.
Share this:
More Food & Drink / Recipes