What to Give: 7 Christmas Hampers
What better gift to give for Christmas than a whole lot of gifts, beautifully presented in a hamper. Here are a few to consider.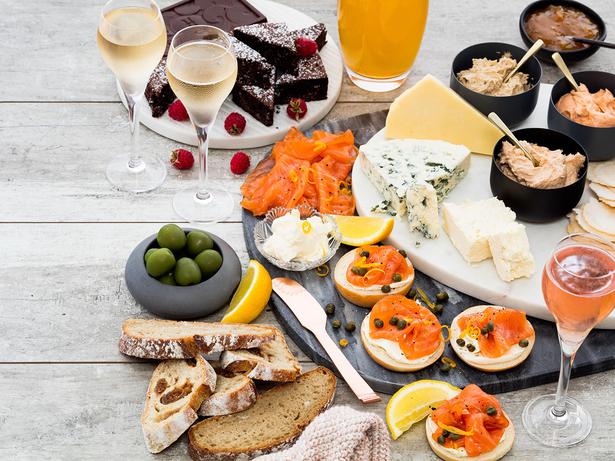 Thursday Dec. 8, 2016
Michilla Signature Stack $730
Perfect for: Valued clients
Cuisine company Michilla has crafted a range of luxury food boxes that are ideal gifts for friends, family or maybe even yourself. Its Signature Stack blends together premium alcohol and deli foods. Most eye-catching are the bottles of Beau Joie Champagne (rose and brut), which come wrapped in aesthetically pleasing copper suits. Other delicious additions include a range of creamy Zany Zeus cheeses, seafood pate from The Smokehouse, Food Snob olives and bread, and most importantly, all of the components to make a batch of gourmet smoked-salmon bagels. For afterwards, there are a few sweet treats, including Hogarth Chocolate and a classic fudge brownie by Herb & Spice Mill. Order at michilla.co.nz.
Coveted Gifts' But Coffee First, from $180
Perfect for: Caffeine fiends
An ideal gift for the Lorelai Gilmore in your life, this curated coffee collection has three price levels: deluxe, superior and premium. The star of the show is the Hawke's Bay Kidnappers Breakfast Blend by Hawthorne Coffee, which is included at each level, and we love the Diesel Living x Seletti Machine Collection cups and saucers and the Seletti Estetico Quotidiano porcelain milk jug, which feature in the two more expensive options. Best of all, the neoprene black hamper — a reusable black tote — comes monogrammed, so you can make your recipient feel really special. Order at covetedgifts.com
Farro Fresh Large Antipasto Platter $120
Perfect for: The hostess with the mostest
Farro have a range of hampers available for the festive season that cover all tastes and are jam-packed with artisan New Zealand products. If your lucky recipient enjoys having people over for cocktails, we'd suggest the Antipasto Platter. This features a selection of crackers, pickles from Maison Therese and The Village Press, Kapiti extra virgin olive oil, Inspired Foods crispbread, Bridge Hill dried fruit and Te Mata Figs preserves. Order at farrofresh.co.nz
Korora Gifts Gentleman's Selection $165
Perfect for: The man in your life
This selection of goodies is ideal for a guy who knows his wine and pairs a glass of vino with a slab of chocolate. He'll find a handcrafted artisan Laguiole carving knives perfect for slicing Christmas ham, a bottle of Peregrine Saddleback Central Otago Pinot Noir, Inspired Foods parmesan bites, Wild Country relish and salsa, Supremely Good chocolate and more. Order at kororagifts.co.nz.
Cook & Nelson Culinary Christmas Box $164.95
Perfect for: Artisan addicts
There's no wicker or cellophane in sight here — Cook & Nelson's curated boxes are beautiful, with the included products all winners of food and packaging awards. The Culinary Christmas Box features supreme oils and condiments, including Organic 5 Olive Oil, hand-crafted Huffman's Sauce, Noble Maple Syrup, Lillie's Q Barbecue Sauce, Amola salt and more. Order at cookandnelson.com
Ima Cuisine Tote Bag $75
Perfect for: Lovers of exotic flavours
One of our favourite restaurateurs around town, Yael Shochat, of Ima Cuisine, has put together a fabulous gift bag not only containing her recently released debut cookbook Ima Cuisine, but a whole raft of treats as well. The branded canvas totes come with a cooking starter pack including Lebanese tahini, sumac, her own baharat spice mix, za'atar, Turkish delight and a small jar of preserved lemons. Order at the restaurant or online at imacuisine.co.nz, and Yael will dedicate the book if you'd like her to.
Sabato Gourmet Getaway $85
Perfect for: A weekend adventurer
We love the woven basket this gourmet hamper from Sabato comes in, which can also be repurposed during the holiday season. Inside are a range of divine products, including Valrhona chocolate, Sabato's own pasta sauce, truffle pesto and Arabian date chutney, Mas Portell garlic-infused extra virgin olive oil, and La Genuina pasta. Check out the Beach, Bach and BBQ Box, and the Weekend Escape basket, too. Order at sabato.co.nz
— Grace Phillips
Share this: