Church Road's Tribute to Tom
Jo Burzynska attends an exclusive event at Wharekauhau lodge to celebrate a wine with history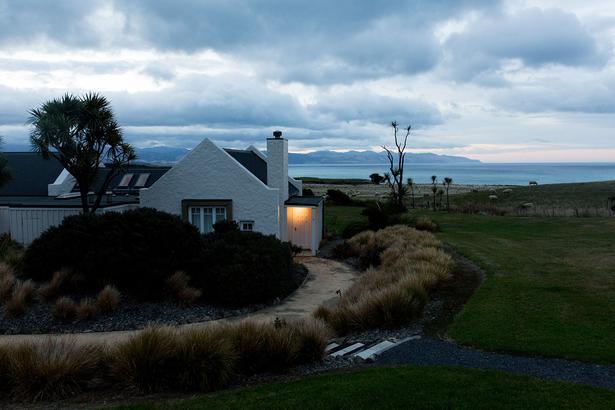 Thursday May 12, 2016
"Every detail matters" is the motto of Hawke's Bay winery Church Road. Its ethos was certainly evident as it helicoptered guests into Wharekauhau Country Estate for the launch of its latest flagship "Tom" wines accompanied by a degustation of matched dishes, a meticulously curated celebration.
Flying the small group of guests from Wellington over the rugged Wairarapa coastline was an epic approach to the festivities, the adrenalin kick-started en route by a touch of turbulence. The excitement built when we touched down in front of elegant Wharekauhau Lodge, where we were met by a welcoming party bearing glasses of Church Road chardonnay.
Modelled on an Edwardian country mansion with lofty chimneys and broad bay windows, this luxurious lodge has played host to high-profile visitors from the Duke and Duchess of Cambridge to the Rolling Stones. Wharekauhau means "place of knowledge" in Maori, and was where the wise would once came and learn their craft. Our contemporary band of travellers, sages from the world of wine and media, were here to be enlightened about Tom.
But first we were invited to explore the 2000-hectare estate with its 19km of Pacific coastline. It began life as a sheep station in the 1840s and remains a working farm that is home to 10,000 lambs in the spring, plus beef cattle and an array of wildlife. To make the most of its extensive grounds and spectacular scenery we were offered various options: some, armed with maps, headed off on the trails across the estate, while others opted for a leisurely stroll in the gardens or a dip in the pool. I joined a group including Church Road winemaker Chris Scott, who were game for a quad bike adventure.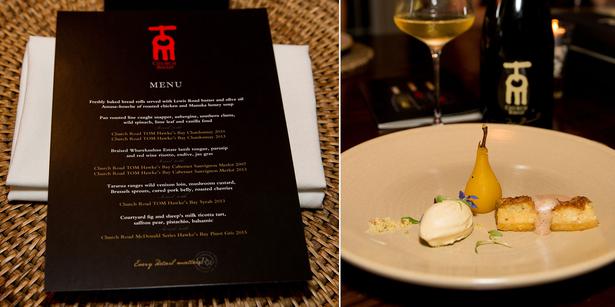 An exhilarating excursion took us across stony riverbeds, up rough farm tracks, over manuka-clad hills, through beech forest and ended with an envigorating blast along a black sand beach. En route we spotted a fallow deer in the Wharepapa Stream and met some large inquisitive eels.
A taste of Tom
Then it was time to dust ourselves off for the raison d'etre of the visit, the unveiling of Church Road's top tier Tom wines. Regrouping in the main dining room, Chris set the scene for the wines with some background about the winery, and the "Tom" who inspired them.
Established by Bartholomew Steinmetz in 1897, Church Road is the third oldest working winery in New Zealand. In the early 1920s, he employed a 14-year-old lad named Tom McDonald to assist him. Then when Steinmetz decided to return home to Luxembourg, Tom took over the running of the winery, aged just 19. By the age of 23 had bought the business.
Following this precocious start, Tom went on to produce New Zealand's first commercial cabernet sauvignon in 1949, which became a benchmark.
"Those early red wines have inspired winemakers and the industry today," explained Chris. "They were hugely important for modern quality winemaking, as they were a move away from the low-quality bulk wines, ports and sherries that dominated at that time."
In the 1960s Tom went on to pioneer chardonnay in the country. He also strived to raise the bar across New Zealand wines as a whole through his involvement in the National Wine Show (now the Air New Zealand Wine Awards) and in 1974 was awarded the Order of the British Empire for his contribution to wine.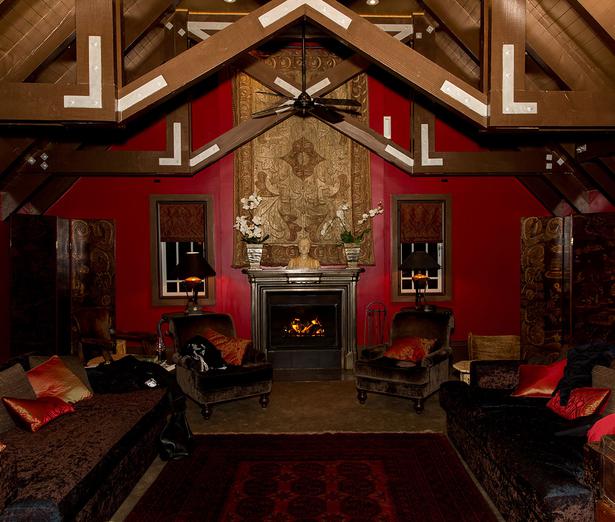 To honour Tom's legacy, Church Road launched the Tom cabernet sauvignon in 1999 from the 1995 vintage, a limited release that represents the company's best red wine. It was later joined by a white partner, the Tom chardonnay, and with the addition of a syrah in this 2016 release, Tom has now become a trio of varieties.
As these are only made in the best vintages, it's been three years since the last launch, which in similarly grand style was held at Taupo's Huka Lodge.
My anticipation of this latest release was particularly high given the greatness of the 2013 vintage in Hawke's Bay, which some have labelled a "once in a lifetime" year.
"2013 was certainly one of the best vintages on record for Hawke's Bay," Chris said. "The driest season in over 70 years, it was warmer than average but not overly hot. These two factors combined to produce fragrant wines with great depth and restrained power, well suited to long-term cellaring."
Despite this impressive prelude and stunning setting, the stellar wines couldn't help but emerge as the stars of the show: the chardonnay combining great intensity with elegance, the cabaret sauvignon merlot having fabulous depth and fragrance and the inaugural syrah a sensational silken and perfumed example.
All these newbies, apart from the syrah, were tasted alongside older vintages, which showed just how well the Toms age. Chris also talked us through the changes that had been made in their production over the years, largely through finding even better sites from which to source the fruit.
Though Tom's trailblazing with cabernet and chardonnay made these varieties the obvious choices for wines made in his honour, I was interested to know why syrah had now been brought into the mix.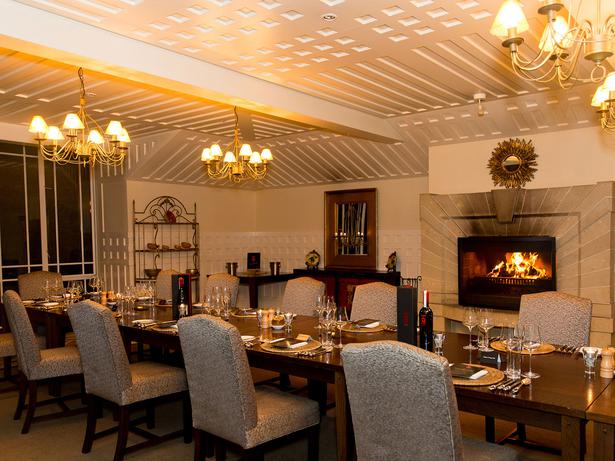 "It's a wine style that's becoming increasingly important in Hawke's Bay and one we've built a reputation around with other wines at Church Road," Chris said.
"It is outside the brief as Tom wouldn't have grown syrah, but we believe he would have approved!"
I was not alone in being impressed by what I'd tried. As the tasting came to a close, one guest remarked, "I want to clap now"; another, "I want to cry". With emotions running high we returned to our cottages on the estate to prepare ourselves for the final hurrah.
Dinner with Tom
The day's denouement was a dinner created to match the Tom wines by Wharekauhau executive chef, Marc Soper. As he explained, the philosophy of his kitchen was to source as much as possible from the estate, with its vegetable garden, fruit trees and livestock providing the greens, lamb, figs and pears for the meal.
"And if we can't grow it we go looking for it," he said, of the rabbit we'd enjoyed which was smoked as a canape shot locally, the menu's wild venison sourced from the nearby Tararua Ranges and fungi for the mushroom custard foraged in the grounds.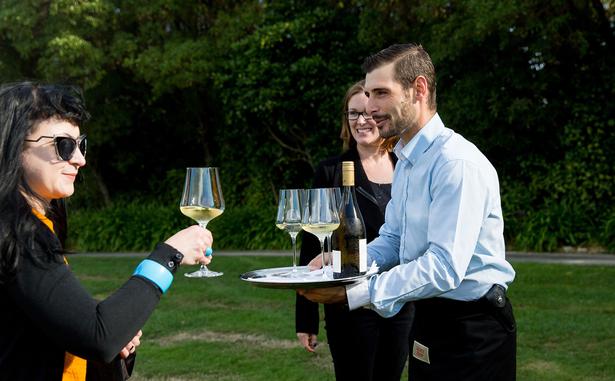 The crispy skin of pan-roasted snapper worked wonderfully with the freshness and flinty character of the Tom chardonnay, with further synergies created through the subtle vanilla fond. The Tom cabernet sauvignon merlot was matched with a similarly savoury lamb's tongue, accompanied by delicious braised endive with a great bitter bite. And with the syrah came the classic accompaniment of venison, with roasted cherry echoing its fruity notes.
Over dinner the conversation turned to how we'd all ended up in our various lines of work.
When I asked Chris what had led him to wine he revealed that he was initially training to become an accountant until a wine tour to Hawke's Bay when he was a student turned these ambitions on their head and he jacked in the course to study wine. It was a fortuitous volte-face, I thought with exquisite liquid in my glass testament that grape-crushing had enabled Chris to produce something far more beguiling than number-crunching ever could.
We retired upstairs to the decadent Palliser Room, with its blood red walls, gilded mirrors and oriental cabinets.
Over a final nightcap of more Church Road wines, cheese and truffles, I reflected that the company had been most convivial, the setting second to none, and the finer points of the day befitting the launch of such scrupulously crafted wines.
• Jo Burzynska was a guest of Pernod-Ricard.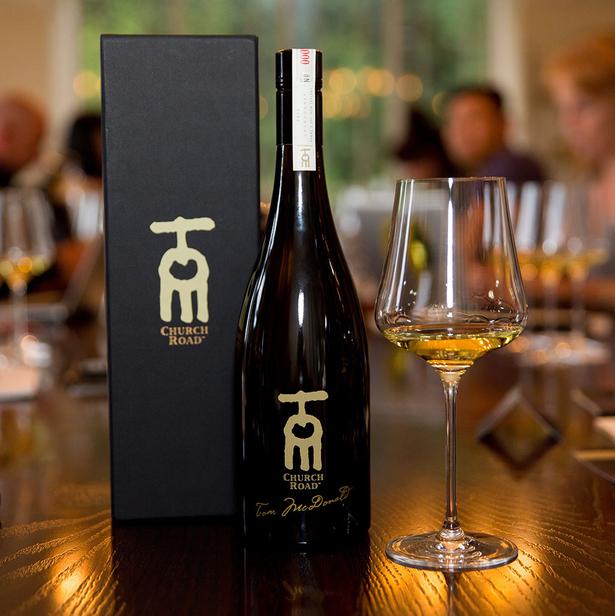 Picture / Supplied
The WINES
Church Road "Tom" Hawke's Bay Chardonnay 2013
Combining power and elegance, this deeply impressive chardonnay layers complex notes of smoke and grapefruit, white peach and hazelnut around an intense citrus and flinty core.
Church Road "Tom" Hawke's Bay Cabernet Sauvignon Merlot 2013
A fine and fragrant cabernet-dominated blend with notes of violet and dusty spice threading through a deeply fruited and velvety textured palate of fresh cassis, milk chocolate and mineral.
Church Road "Tom" Hawke's Bay Syrah 2013
Redolent of raspberry, rose and sweet peppery spice, the first-ever TOM syrah is a highly aromatic and auspicious debut, with these perfumed notes threading its satin-like palate of fresh and dense back plum, blueberry and raspberry fruit.
Share this:
More Food & Drink / Wine & Drink