Churros with Poached Pear, Salted Caramel Ice Cream and Spiced Pecans
These churros from The Tasting Shed in Kumeu make for a rather impressive dessert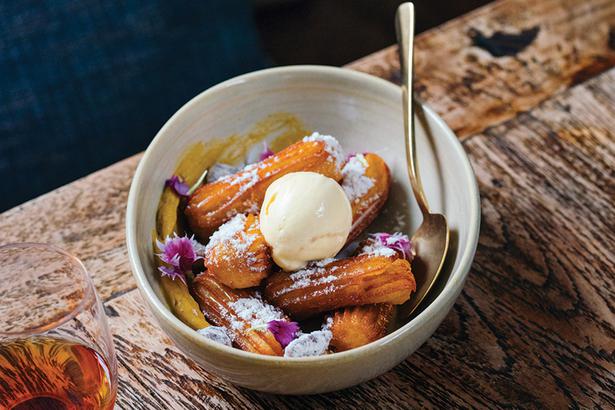 Wednesday Oct. 4, 2017
Reading the NZ Restaurant Cookbook is the next best thing to taking a trip around the country with food writer Delaney Mes, stopping in at our best restaurants along the way. Delaney says New Zealand's dining scene "has never been in better shape", sharing proof through stories and recipes she collected while researching the book. These churros from The Tasting Shed stood out to us as a dessert to whip up for a special occasion.

CHURROS WITH POACHED PEAR, PUMPKIN PUREE, SALTED CARAMEL ICE CREAM AND SPICED PECANS RECIPE
Serves 4

Ingredients
Pumpkin purée
500g butternut pumpkin, finely diced
50g butter
½ tsp ground cinnamon
½ tsp ground ginger
¼ tsp ground nutmeg
¼ tsp ground allspice
110g standard flour
200g condensed milk
2 eggs
Poached pear
Peel and juice of 1 medium-sized orange
Peel and juice of 1 lemon
1 stick cinnamon
200g sugar
500ml water
3 pears, peeled and cut into quarters, cores removed
Spiced pecans
½ cup sugar
¾ tsp flaky salt
½ tsp cayenne pepper
2 cups pecans
4 tsp water
Churros
Vegetable oil, for deep-frying
Seeds of 2 vanilla pods
500ml milk
160g butter
300g standard flour
6 eggs
To serve
Good-quality salted caramel ice cream
Edible flowers, for garnish (optional)
1. For the pumpkin purée, preheat oven to 180C.

2. Place pumpkin and butter in a pan together with spices and cook over a medium heat for about 15 minutes or until soft. Place in a blender and blend until smooth. Fold in sifted flour, condensed milk and eggs. Transfer to a small cake tin and bake for about 20 minutes, then return to the blender and blend until smooth. Set aside.

3. For the poached pear, place orange and lemon peel and juice in a saucepan just large enough to hold the pears. Add cinnamon and sugar, pour in water and bring to the boil. Cook until sugar dissolves, then reduce heat and lower pears into the liquid. Simmer gently for 10–12 minutes, or until tender, then remove from the heat and leave pear to cool slightly in the liquid before removing them. Return the liquid to the heat and reduce until it thickens to a syrup consistency. Set aside.

4. For the spiced pecans, preheat oven to 180C. Line a baking sheet with baking paper.

5. Whisk together sugar, salt and cayenne pepper in a medium bowl. Add pecans to the sugar mixture, along with water. Stir until the sugar has dissolved into a sticky glaze.

6. Transfer pecans to the baking sheet, arranging them in a single layer.

7. Bake for 10–12 minutes, until pecans are crusty on top and caramelised and golden on the bottom. Once cooked, transfer to a cool tray.

8. For the churros, heat oil in a deep-fryer or a deep saucepan. Combine vanilla seeds with milk and butter in a saucepan. Bring to the boil over a high heat. Using a wooden spoon to stir, gradually sift in flour. Reduce heat to low and stir vigorously until mixture forms a ball; about 1 minute.

9. Remove dough from the heat and place into the bowl of an electric mixer.

10. On a low speed, add eggs one at a time until eggs have combined and mix comes away from the bowl.

11. Spoon churros dough into a pastry bag fitted with a large tip. Squeeze a 10cm strip of dough into the hot oil. Repeat, frying 3 or 4 strips at a time.

12. Fry until golden brown, turning them once; about 2 minutes per side.

13. Transfer to paper towels to drain.

14. Place sugar on a large plate. When churros are just cool enough to handle, roll them in sugar.

15. To plate, place a good swipe of pumpkin purée in the middle of a bowl and arrange 3 pieces of pear on top. Place 6 churros randomly around the plate. Drizzle pear syrup over the top, garnish with spiced pecans and add a scoop of salted caramel ice cream. Garnish with edible flowers (if using).
• Extract reproduced with permission from New Zealand Restaurant Cookbook by Delaney Mes. Recipes © individual restaurants. RRP $50.00. Published by Penguin NZ. Photography by Liz Clarkson.
Share this:
More Food & Drink / Recipes