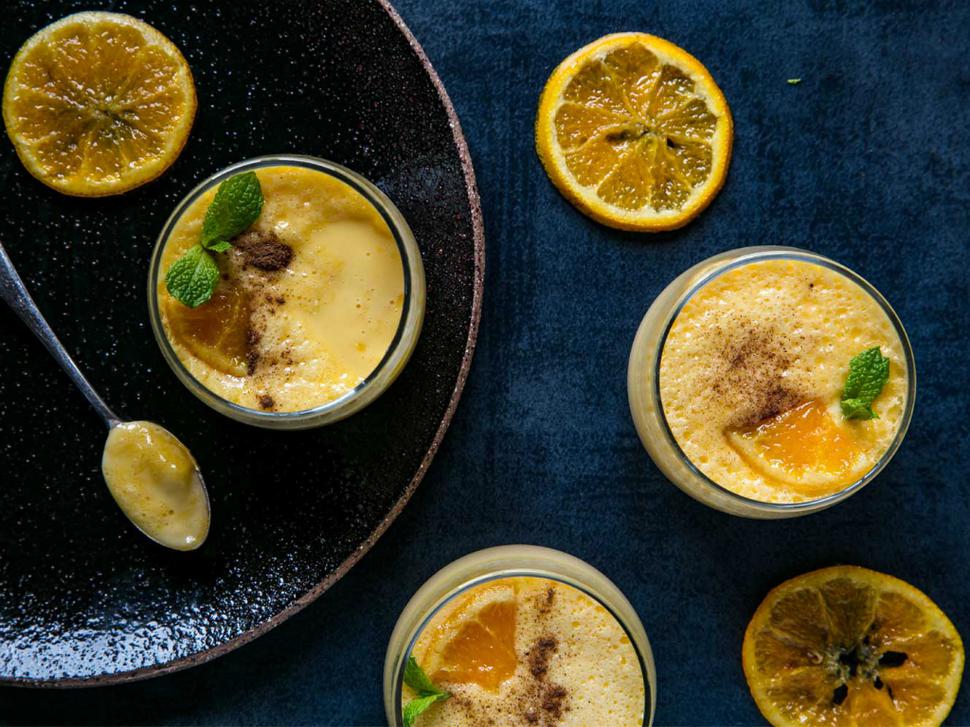 Citrus Cream Pots With Caramelised Orange Slices
Boozy, zesty and oh-so retro — these little pots make the perfect old-fashioned dessert
Thursday May 24, 2018
One of the most versatile and drinkable liqueurs is Cointreau, and it comes into its own here. I tend to get a little heavy-handed (forgetting to use a measuring spoon) when making this citrus pot recipe. The caramelised orange make a pretty topping and are delicious to eat, even on their own.
CITRUS CREAM POTS
Serves 4
1 orange, zest plus 2 Tbsp juice
1 lemon, zest plus 1 Tbsp juice
200ml cream
2 Tbsp Cointreau
½ cup sugar
2 eggs
1 yolk
Caramelised orange slices (optional)
¼ cup sugar
2 Tbsp water
4 slices orange
1. Preheat an oven to 170C.
2. Peel the zest from the orange and lemon. Place into a small pot with 1 cup of water and bring to the boil for 5 minutes. Remove and strain the zest.
3. Place the cream in the pot, add the zest and bring to the boil. Remove from the heat and cool completely.
4. Beat together the juice, Cointreau, sugar, eggs and yolk until light and creamy. Strain the cream and add to the eggs. Let the mixture sit for 15 minutes, so any froth dissipates.
5. Strain the cream mixture and pour into four 100ml ovenproof dishes. Place the dishes into a deep oven dish. Half fill the oven dish with hot water. Place into the oven for 20 minutes until mixture is just set. Remove and cool completely before serving.
6. For the caramelised orange slices, heat the sugar and water in a small frying pan. When the sugar has dissolved add the slices of orange and cook until sticky and golden. Remove and cool on baking paper.
Share this:
More Food & Drink / Recipes