Citrus and Green Olive Salad Recipe
Try this easy citrus salad for a quick lunch or dinner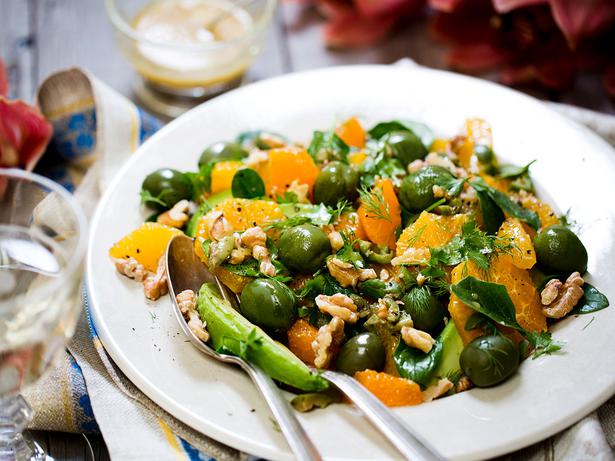 Friday June 23, 2017
This citrus and green olive salad is a real throw-it-together dish to impress. I love the recipe because it can be altered with whatever citrus is best at the time. Earlier in the season I may add more mandarins, then later replace with oranges. Even lime segments can add a lovely flavour and colour. Pomegranate molasses are now available at most supermarkets.
CITRUS AND GREEN OLIVE SALAD RECIPE
Serves 4 as a starter
1 cup green olives
2 mandarins, peeled and segmented
1 grapefruit (ruby if possible), peeled and segmented
1 orange, peeled and sliced
1 large avocado, peeled and cut in 8
2 cups baby spinach
½ cup toasted walnuts
¼ cup flat leaf parsley leaves
2 Tbsp dill sprigs
2 Tbsp olive oil
1 Tbsp pomegranate molasses
Salt and freshly ground pepper, to taste
1. Using a large knife squash half the olives to release the stone. Then cut the olives in quarters and discard the stones. The remainder can stay whole.
2. Into a large bowl place the olives, mandarins, grapefruit, orange, avocado, spinach, walnuts, parsley and dill.
3. In a small jug mix the oil, molasses, salt and pepper. Pour over the salad and mix gently.
4. Serve on a platter or place into a decorative bowl.
Share this:
More Food & Drink / Recipes