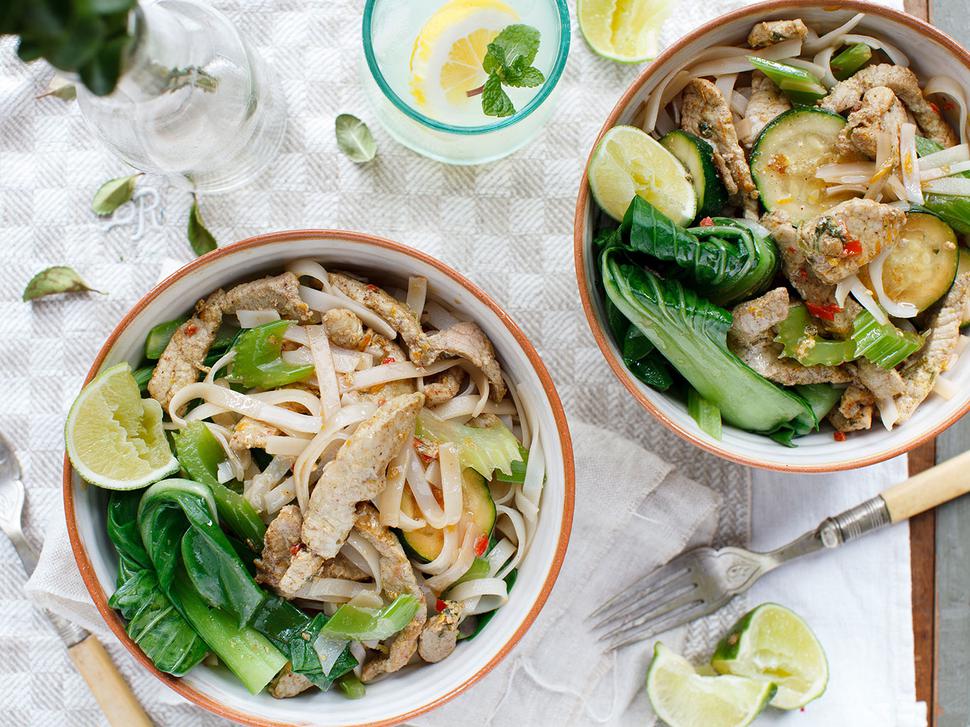 Citrus Pork with Rice Noodles Recipe
Try this quick citrus pork served over hot steaming noodles
Wednesday Oct. 14, 2015
CITRUS PORK WITH RICE NOODLES
Serves 4
• 400g pork schnitzel, sliced thinly
• Zest and juice of 1 lemon
• Zest and juice of ½ orange
• ¼ cup soy sauce
• ¼ cup oyster sauce
• 1 Tbsp honey
• 1 tsp chilli flakes
• 2 Tbsp oil
• 2 spring onion, sliced
• 1 stalk celery, sliced
• 2 courgettes, sliced
• 1 head bok choy, sliced lengthways
• 1 cup chicken stock
• 4 cups cooked rice noodles, to serve
1. Place pork in bowl with lemon, orange, soy, oyster sauce, honey and chilli. Mix well and leave to marinate for 30 minutes.
2. Drain pork, reserving marinade. Heat 1 Tbsp of oil in frying pan to medium heat. Fry pork in batches until golden.
3. Heat the remaining oil in the pan. Add the onion, celery and courgettes, stir-frying for 2 or 3 minutes. Add the bok choy, marinade, chicken stock and cook for 3 minutes. Add the pork and toss well.
4. Serve in bowls on top of the hot noodles.
Share this:
More Food & Drink / Recipes