Meet Clooney's New Head Chef Jacob Kear
Clooney's new head chef Jacob Kear plans to bring a new perspective to Auckland's restaurant scene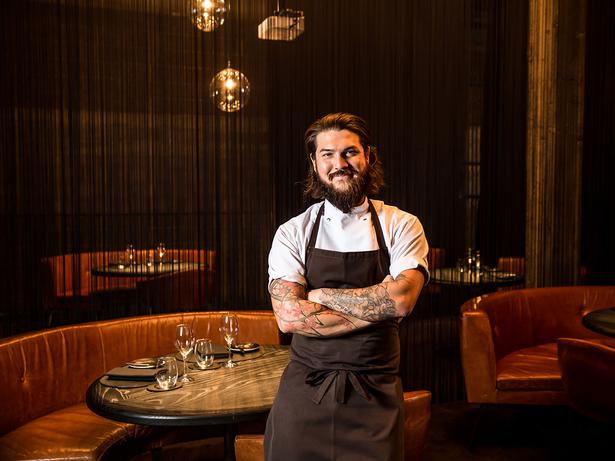 Wednesday Feb. 22, 2017
He's made vegan dishes for Alicia Keys, supermodel meals for Miranda Kerr and "temple food" for Ryan Seacrest. (From Mondays to Fridays, the E! presenter won't touch salt, sugar, dairy, onion or garlic, but on weekends he'll sneak down to the freezer to munch on raw cookie dough.)
For Jacob Kear, until recently a resident of Los Angeles who catered to celebs, preparing a delicious meal for the nutrition-obsessed required some seriously creative thinking. Now he's turning his attention to high-calibre dining of a different sort, stepping into the head chef role at Clooney.
The Japanese-American chef is preceded by his reputation, having worked at Copenhagen's two Michelin-star restaurant Noma, named the best restaurant in the world four times before closing its doors late last year. He has also worked at the Michelin-starred Tapas Molecular Bar in Tokyo, and helped Noma's owner Rene Redzepi establish Noma Japan.
So what's an international culinary star like Jacob doing Downunder? Giulio Sturla of Christchurch restaurant Roots had spotted the 35-year-old's work on Instagram and invited him to cook for his wedding to his American fiance; the pair struck up a friendship, and Jacob did a stint there as guest chef.
"I fell in love with the whole land of New Zealand. Being raised in Japan and northern California, it looked really similar to me. I spent the last four days exploring the Southern Alps and sitting in hot springs. It brought back a lot of childhood memories of Japan. And the products are really high-end."
Determined not to leave, he sent out a missive to a few fine-dining restaurants, hoping for a vacancy. Meanwhile, as Clooney geared up for its 10th birthday last year, head chef Des Harris, a huge part of the restaurant's success, announced his resignation. Just as owner Tony Stewart was nervously contemplating the future, an email from Jacob arrived in his inbox.
READ: Chef Rene Redzepi on Closing Noma
"It was unbelievable," says Tony. "I thought someone was taking the piss."
He says he would've liked to have hired a Kiwi but was looking for someone with a different perspective.
"Over the past 10 years we've brought through some really good chefs and trained them and a lot have gone on to do their own things, but replicating what we've been doing, with their own spin.
"If I was to look at New Zealand chefs, I'd probably be interviewing people who'd already been part of Clooney. I really loved Jacob's upbringing, the Japanese element. I love clean food, and the Japanese have a good appreciation for umami, that richness without being heavy."
Since late last year, Jacob has been busy settling in to his new city fringe pad (his wife and children arrive as soon as their dog has made it through quarantine), and devising a new menu that Tony says will bring the "wow factor" to Auckland dining.
You'd expect him to say that, of course, but if you whip through the notebook Jacob carries with him everywhere, you'll get an idea of his meticulous approach, not only to flavour but presentation. The handwriting is incredibly neat, and there are sketches of dishes every few pages.
"I'm not Nordic but I'm taking what I learned from Copenhagen and bringing it to my roots. I want to do Japanese food but more in the Nordic way."
On the plate, that translates to mean a lot of greenery, preservations and fermented foods, and "more eye-candy". Think Cloudy Bay clam tart, presented in tart shells made from kelp and Japanese koji (the white fungus that grows on rice and is the base product for soy sauce, miso and sake), with a herbaceous clam emulsion.
READ: Great Places to Eat in Tokyo
Or sake kasu icecream, (created from the by-product of sake), paired with a glass-like rice crisp, milk crumble, and green strawberries, that he assures me taste tart, like rhubarb.
"I picked 11 kilos and the farmers were like, what the hell are you going to do with this?"
Last year, he went foraging for elder-flower, which he's pickled for vinegar, and spruce pine, a pointy variety that hurts like hell to pick.
"Even Michael Meredith wasn't using it," he says. "During spring the young shoots come up and it's really tender, it tastes like grapefruit. I'm always thinking ahead. There's no waste."
It's a typically Japanese philosophy, he explains, taking elements from nature and using them to elevate a dish, something he learnt as a kid. His American father and Japanese mother had a cabin in Nagano, and his nutritionist grandmother would lead them in foraging excursions for summer vegetables and berries.
"I forgot about that until the minute I went into the kitchen at Noma ... It's the thing I'm trying to teach the boys [at Clooney]: spend more time in the wilderness. Cooking is only a small portion of it. But if you get inspired by going foraging or hiking, put that into the dish and it makes it unique."
It was his grandfather who encouraged him to pursue a career in food, talking him out of business studies to follow his passion — Jacob first picked up a pan at 7 and was cooking professionally by 15. After training at LA's Cordon Bleu cooking school, his first big breakthrough came when he entered an early televised cooking show on the Food Network.
That led to a job in Korea, running a Californian-style bistro for a year. During that time, his Mum would send him DVDs, including one documenting the complex techniques taking place at Tokyo's Tapas Molecular Bar, an eight-seater restaurant and bar specialising in molecular gastronomy.
"I was already teaching myself. I'd learn how to make caviar spheres, I got to know what chills at what temperature, if you can use this thing with a high pH, what does and doesn't work. We'd do two turns a night, three staff serving 26 courses, all one to two bites."
He had a huge ego back then, he says, something that changed when he had the first of his three children.
"I had my son, he's 11 now. I sacrificed my family to work in Japan because my wife at the time was still a student [so had to stay behind]."
READ: Chef Des Harris Farewells Clooney
He promised he'd only be in Japan for a year but seven months in, the restaurant received a Michelin star and he knew the timing wasn't right to return.
"It was a really dark time when I got back. I tried to save my marriage but it didn't work out."
Instead he spent some time at Southeast Asian restaurant Lukshon but it wasn't for him, so he moved to Copenhagen, where he worked for Rene Redzepi, who he still considers his biggest mentor, professionally and personally.
"Noma really changed the culinary landscape," says Tony. "It's French-derived and they really put emphasis on thinking outside the square with the use of products, more than most. It's also incredibly seasonal, and Jacob has a good broad understanding of what to do to product, to preserve or transform it, hold it through seasons, and use it in interesting ways."
Although these days Jacob is less inclined to use molecular tricks as a presentation gimmick, he will lean on them at Clooney in a practical sense like he did at Noma — using liquid nitrogen, for example, to keep cooked purees bright green, and working out the best way to aerate chocolate.
But if there's a defining feature of Jacob's food, it's that each of his dishes has five components or less on the plate. It's a philosophy also employed at Copenhagen restaurant Relae, not to mention a characteristic of Japanese cooking, the emphasis on using the best possible product.
Most of the produce on the new menu he'll source from New Zealand, except for the specialty Japanese products, such as kelp and soy sauce. Recently he's been on the hunt for ripe watermelon for a compressed watermelon dish, a search that has put him in touch with farmers as far from the Freemans Bay restaurant as Queenstown.
READ Chef's Choice: Queenstown on a Platter
"I like Pasture [in Parnell] a lot, it's more towards what I'm going for. I think that's the new movement. Simplicity, letting the ingredients shine."
Pasture's head chef Ed Verner also worked in Copenhagen and Japan and uses those influences in his food. Jacob says Clooney will also mill flours to make their own breads, and playfully says Ed needs to watch out. So how does he see Clooney differentiating themselves?
"Our food will be more elegant. What he's doing is more rustic, which is fine but it doesn't feel like I have any like, competition, not to be like arrogant but just by following different chefs on Instagram, compared to the food I did at Roots and the Clooney media dinner, I haven't seen anything like that here yet. Even at Roots, Guilio was amazed."
• The new menu at Clooney launches March 3.
Share this: