Don't Miss: Cloudy Bay's Pinot & Duck Tasting Trail
Restaurants around the country are offering dishes to mark duck season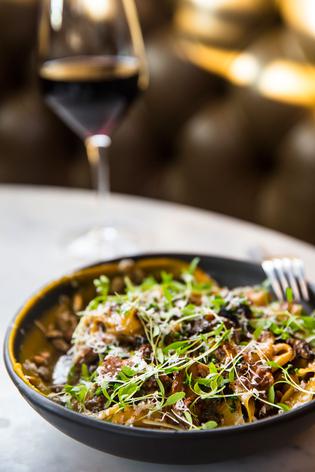 When Baduzzi opened three years ago, executive chef Ben Bayly wanted to include a duck bolognese on the menu. What transpired instead was a dish that's become so popular, he fears ever removing it, lest fans put out a hit on him.
The Italian-inspired buttered maltagliati with duck and porcini ragu, buttercup and pickled black walnuts ($26), is his signature offering in the Cloudy Bay Pinot & Duck Tasting Trail, which runs throughout May to coincide with duck-hunting season. Top chefs at 25 restaurants in Auckland, Wellington, Christchurch, Taupo and Queenstown have created duck dishes to complement the winery's 2013 pinot or the 2011 Te Wahi Central Otago pinot noir.
"Pinot is not a big-boy wine but the acidity balances the richness of the duck meat," says Bayly, chatting over the pairing at his North Wharf restaurant. "It doesn't go with strong meats but with rich meats, particularly duck, which has a gamey quality to it."
Perhaps the most intriguing part of the dish — aside from the sweet, crystallised pumpkin seeds or the use of maltagliati (a pasta traditionally made from pasta scraps or "bad cuts", and again, one used so keenly that Baduzzi now make their own deliberately mismatched pieces) — is the pickled black walnuts. The soft delicacy has a sharp flavour that, like the wine, cuts through the silkiness of the fats. Bayly has found a supplier in the South Island, and starts the pickling process at Christmas.
"To me, when you taste the walnuts, they are the pinot, and vice versa."

• Cloudy Bay's Pinot & Duck Tasting Trail, May 1-31, is also at Auckland restaurants Oyster & Chop, The Pullman Hotel, Monsoon Poon, Vivace, The Grove, NSP, Sails Restaurant, Harbourside, White and Wong's, and Botswana Butchery.
Share this:
More Food & Drink / Wine & Drink