Where to Go: New Britomart Cocktail Bar Caretaker
Find happiness in this new Britomart cocktail bars' freshly shaken cocktails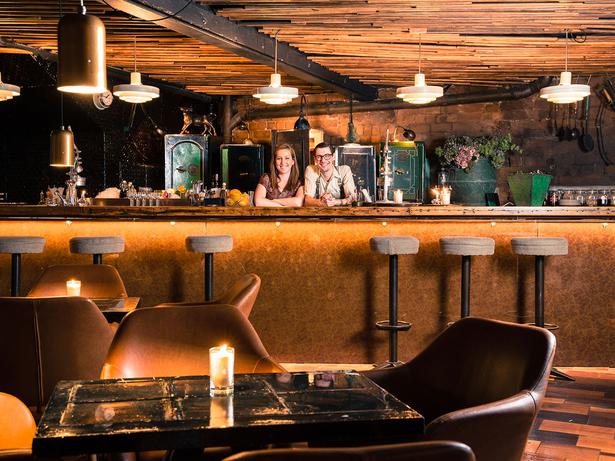 Wednesday Nov. 9, 2016
We challenge you to walk out of Caretaker without a smile on your face — this new Britomart cocktail bar is that good. Husband and wife team Heather Garland and Alastair Walker — part-owners of the New York-style nightspot with the Britomart Hospitality Company — are self-confessed "classic cocktail nerds" and have been honing their craft for years, most recently at New York master mixologist Michael Madrusan's The Everleigh in Melbourne.
Located down a dark stairwell underneath Rec, Caretaker's vintage doorway is fringed by old paint tins keeping in theme; once inside you'll find a welcoming space with comfy leather couches, two huge convex mirrors (old street corner mirrors from Prague), and low, warm lighting. In a nice historic touch, the tabletops are all made from doors from a 100-year-old house that was recently pulled down, and don't forget to look up: the ceiling is formed by 1000 broom handles which Alastair varnished and waxed by hand.
The small selection of spirits are kept partially concealed behind the bar in old safes, partly because the couple prefer to call the shots when it comes to creating each drink, which is one way of introducing the drinkee to something they may not otherwise have ordered. Service is table only.
"When you come in we talk with you about what you like rather than just having a menu. We ask you what kind of flavours you like, do you have any spirits that you enjoy, and then we figure out the perfect drink for your tastes," Heather says.
Of course there is an excellent drinks list too, cleverly presented in old textbooks, and a weekly list of five cocktails. All are $19 unless they contain ultra premium spirits.
If happiness is not a freshly shaken Scotch Bracer made with fresh lemon, sugar, scotch egg white, soda, Peychaud bitters and a dash of absinthe, then we don't know what is.
• Caretaker is at Roukai Lane, Auckland Central, open 5pm-3am daily. Visit caretaker.net.nz
Share this:
More Food & Drink / Wine & Drink